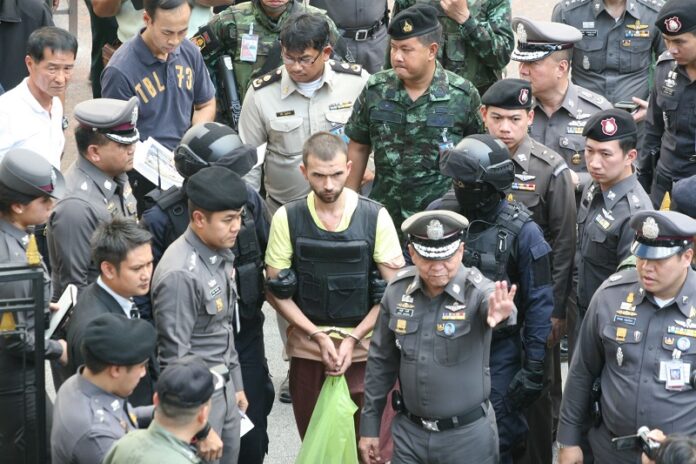 BANGKOK — The trial of two Uighur men accused of staging a 2015 terror attack that killed 20 people could last until 2022, a defense lawyer said Monday.
Nearly two years after a bomb struck Erawan Shrine in the heart of Bangkok, police investigator Lt. Col. Somkiat Ploytubtim – the first out of 400 witnesses from the prosecutor's side – was cross-examined by the defense today.
Defense lawyer Schoochart Kanpai said that in the worst-case scenario, the trial could extend until 2022.
"But it might end as soon as 2019, as they said they might cut some witnesses out," he said Monday.
Schoochart today disputed Somkiat's testimony, who had told the court that both suspects confessed under questioning to planting the bomb. The defense lawyer said that his client, Karadag, only confessed to illegally entering the kingdom.
Somkiat only testified before the military court for the first time last month after the case was prolonged due to problems obtaining an interpreter. A previous one remains on the run from drug charges.
In November, the court settled on an interpreter appointed by the Chinese Embassy after judges rejected one offered by a Munich-based Uighur group.
The two Uighur suspects, Adem Karadag and Yusufu Mieraili, were accused of planting bombs at the popular tourist spot which killed 20 people and injured dozens. They have been held at a special prison inside a military base since September 2015.
They were the only two suspects arrested from a total of 17 arrest warrants issued after the attack.
Related stories:
First Witness Takes Stand Nearly 2 Years After Erawan Bombing
Shrine Bombing Trial Postponed Because Interpreter's Busy
Bangkok Bombing Trial: Defendants Protest Chinese Interpreters
Bangkok Bombing Trial in Limbo Without Interpreter
With Interpreter on the Run, Erawan Bombing Trial is Postponed to September