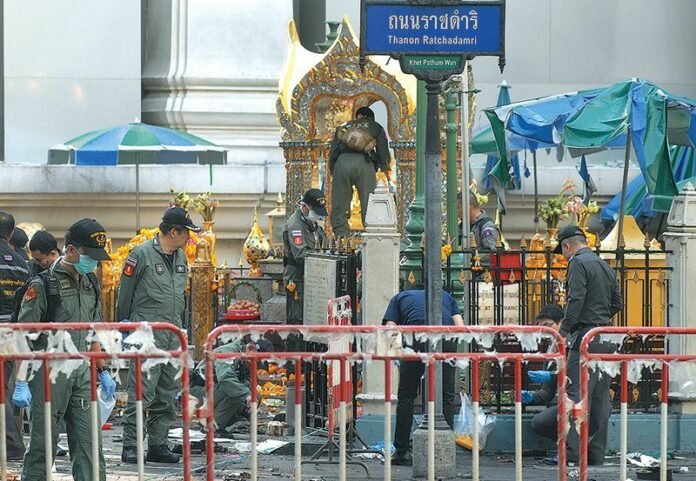 BANGKOK — One of Thailand's biggest criminal trials remains on hold after a military court turned down an organization's offer to use a professional translator, and another prisoner recruited for the job only spoke Uzbek.
The military tribunal trying two Uighur men for last year's bombing of the Erawan Shrine on Thursday rejected an interpreter offered by an organization in Europe to translate testimony for the pair accused of orchestrating the attack which killed 20 people.
"The prosecutor said the interpreter was sent from an organization which has a problem involving national security," said defense lawyer Schoochart Kanpai. "We respect and agree with the court's decision."
The court did not elaborate on its decision to not accept the offer from the Munich-based World Uyghur Congress. The generally accepted motive for the August 2015 bombing was revenge for Thailand's forcible repatriation of more than 100 Uighurs to China under pressure from Beijing. Chinese state media has described the World Uyghur Congress as a terrorist organization.
Instead, it brought into the chamber a woman wearing a shirt that said "Detainee" to do the job. The woman, who was already in custody on immigration charges, is Uzbek and could not speak Uighur.
"An earlier report said this interpreter was able to speak Uighur," Schoochart said. "It turned out today she only speaks Uzbek, so the defendants cannot understand."
That means the trial, which was paused after losing a previous volunteer translator in June, cannot resume. At the previous hearing on Aug. 23, Schoochart told the court the World Uyghur Congress in Germany had offered to dispatch the Uighur translator at its cost if the judges approved.
The case has been delayed since amateur, volunteer interpreter Sirojdolin Bakhodirov was arrested on drug-related charges and went into hiding. He had been translating between English and Uighur for the two suspects since they were arrested in September 2015.
The Uzbek woman and defendants today explained to the court that though Uzbek and Uighur are both Turkic languages, they are not the same.
Read: Angry Victims and Families of Shrine Bombing Still Wait for Justice 1 Year Later
Thursday's hearing was to hear from the first witness, a high-profile officer from the circuitous investigation into the attack: English interpreter Lt. Col. Thuaythep David Wiboonsilp. His testimony was rescheduled to begin Oct.13.
Thuayhtep once helped translate into English for the defendants, who speak little of the language. As Thuayhtep will now be testifying against them, the court appointed a new English interpreter, Uraiwan Dumrongsunan, for the defendants.
Schoochart today said his client, Adem Karadag, is okay with being held on the same military base where he earlier alleged that he was tortured after his arrest.
The hearing today did not end with a concrete solution, though Schoochart said from now on he would leave it to the court to find an interpreter of its choice.