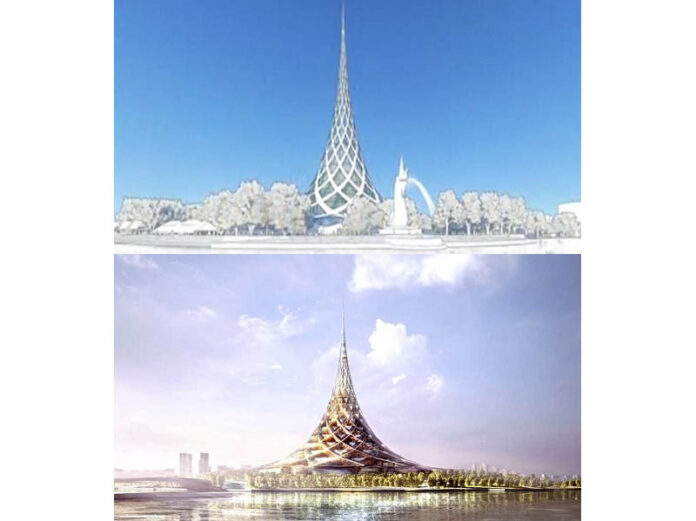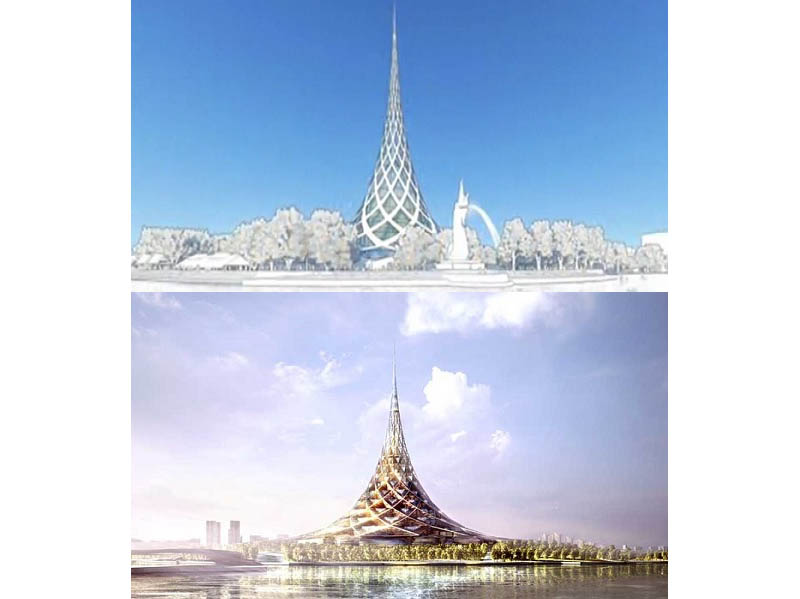 BANGKOK — The architectural team behind an already controversial riverside redevelopment project announced Wednesday it would withdraw a design critics said was copied from a famous international architect.
Though it steadfastly denied copying the design of a massive project designed by Norman Foster for Moscow, the project's design team said it killed the proposed Viman Phra In (Paradise of Indra) structure due to "public doubts."
"To be honest, we just saw the work in Russia and Japan for the first time," said spokeswoman Antika Sawadsri, referring to a monument in Nagoya, Japan, others said their design resembled. "But no matter what reason we say, people still think that we copied the design, so we decided not to continue with it."
Read: Top Architect Says River Project Plagiarized Design
Watchara Chongsuwat, the principal at architectural firm A-Seven, earlier questioned why Foster wasn't blamed for copying the building style from Thailand.
The firm was contracted by King Mongkut's Institute of Technology Ladkrabang and Khon Kaen University as part of a sprawling project to redevelop land on both sides of the Chao Phraya River for seven kilometers. Its design was prepared as part of a brief feasibility and design phase said to cost 120 million baht.
Despite the setback, Antika said a new proposal would be prepared to somehow meet the original deadline in nine days on Sept. 26.
On Sunday a group opposed to the project pointed out striking similarities between A-Seven's design and that of Foster and Partners for the Crystal Island in Moscow, which has yet to be built. On Monday famed architect Duangrit Bunnag called for legal proceedings against A-Seven, saying it was a violation of architectural principles and possibly the practice's by-laws in Thailand.
The head of the project denied repeatedly they are copycats and said critics were being "disrespectful."
"I insist that we did this for the country, not for our personal benefit. And I insist that we didn't plagiarize. We didn't plagiarize," said Sakul Hovanotayan of King Mongkut's. "What will happen from this project is not useful only for people in our generation, but it'll be also passed on to the next ones. So you have to reduce your biased opinions and be respectful."
Duangrit, who brought attention to it Monday, thanked the university-led design team for killing the plan. He remains deeply opposed to the redevelopment project which the junta has hurried to push through since announcing it.
"What society has to ask is, what is the necessity and the reasons behind this megacity project, and whether we really want it" Duangrit wrote. "What would we choose between: a beautiful riverside walkway or less crowded roads, no floods and better education?"