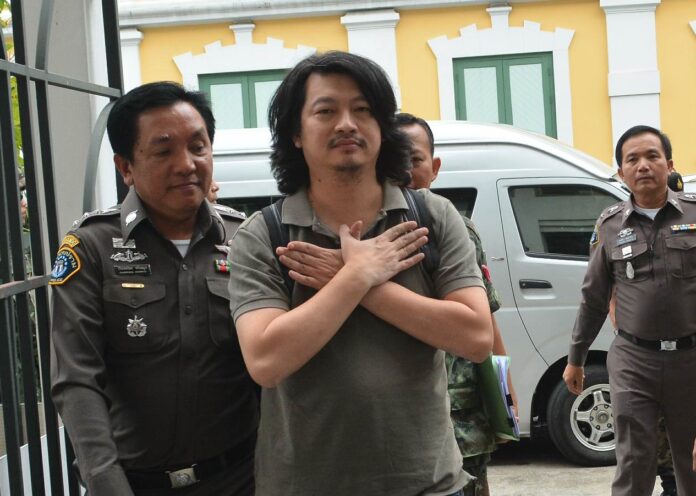 BANGKOK — Kittithat Sumalnop became a post child for the pro-democracy movement and won the nickname "Champ 1984" when he was famously arrested one month after the coup for eating a sandwich and reading Orwell.
On Monday, he received news that elated him: The junta would no longer send civilian cases such as his before military tribunals. Then he got a call from his lawyer saying sorry, it doesn't apply to you.
"No one should have been charged to begin with," he said Thursday.
Read: Junta Revokes Military Trials for Civilians
Though Kittithat says he doesn't want the junta's illegitimate powers used to do so, he's among several pro-democracy activists facing military trials who said their cases should be returned to civilian justice now that the junta has ended the practice.
Rangsiman Rome of the New Democracy Movement said he's among those unconvinced by the rationale that though the practice has been suspended, it would be too complicated to apply it to their cases.
"Transferring my cases to the court of justice would have been very simple," Rangsiman said.
He faces multiple counts including sedition, violating a ban on political gatherings, and violating a law which criminalized virtually any campaigning in the run-up to last month's charter referendum.
Rangsiman, despite being held in pre-trial detention for 12 days, said his cases are still with the Attorney General.
"If they wanted to transfer it, they could definitely do that. It may be a little inconvenient, but nothing compared to how civilians would benefit. No civilians should have been put on military trial to begin with," said 24-year-old Rangsiman, a graduate law student at Thammasat University.
Sombat Boonngam-anong, charged with calling for the overthrow of the junta, which calls itself the National Council for Peace and Order, said the junta should even go further by dismissing all sentences and charges for politically related crimes.
While welcoming the news that no more civilians will be tried by the military, Sombat said the junta cannot whitewash its human rights violations as approximately 1,500 cases have already gone for military prosecution since the 2014 coup. That includes his cases: Sombat is charged with sedition and violating the Computer Crime Act for calling on people to oppose the coup.
On Monday, the junta announced it would revoke orders under which civilians accused of crimes deemed matters of national security – including insulting the monarchy – would be tried by the military, where defendants have much fewer rights than in civilian courts.
It said conditions had improved in Thailand since it seized power and that the public was now "cooperating" with its agenda.
The activists read in the decision the coup makers' confidence in their hold on power and a desire to play to court of world opinion.
Sombat thinks the junta wants to reduce pressure from the international community. He also suspects such cases were inundating and overwhelming military judges.
Rangsiman cited a number of factors he believes were at play, including a less insecure regime confident in its grip on power after the public last month approved the constitution it had backed.
"If they think they cannot deal with internal [resistance], they won't end the practice even if there are pressures from abroad," Rangsiman said.
Kittithat agreed international pressure was a factor.
The junta thinks there will be no problem now, and those who still defy it can still be arrested and released later," the 34 year old said. "They may also think all the big figures are already facing military courts. I don't know which factors are more important, however."
Kittihat said despite his travails, he would not be comfortable with junta leader Prayuth Chan-ocha transferring his and 500 other civilian cases to civilian courts because he refuses to recognize the retired general's authority. He would rather see the junta-appointed legislature pass a general amnesty bill absolving all those politically charged under the junta.
Rangsiman said he wouldn't go asking.
"I won't be making demands of the NCPO, because the NCPO has no legitimacy," said the activist, who faces up to 10 years in prison for campaigning against the charter. "I insist that the NCPO illegally seized power, and we cannot ask people who have violated the law to rectify the matter."