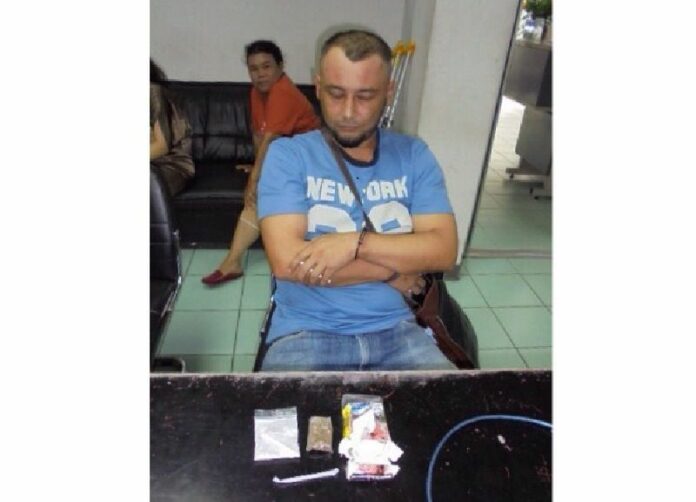 BANGKOK — An interpreter for the two men accused of carrying out last year's deadly Bangkok bombing will be taken to court as a defendant Friday to face his own criminal complaint on charges he says were manufactured.
Uzbek national Sirojiddin Bakhodirov will be taken to Bangkok South Criminal Court on Friday after his arrest Wednesday for possessing narcotics which came not long after he helped interpret between English and Uighur for the Erawan Shrine bombing suspects at a hearing in their own trial for the August blast.
Bakhodirov, 38, said police planted drugs on him yesterday just hours after he'd testified to the military tribunal that he had been assaulted and threatened with deportation for helping Adem Karadag and Yusufu Mieraili, the two Uighurs accused of carrying out the bombing which killed 20 people.
Bakhodirov was arrested near Sukhumvit Soi 5 around 3:30pm on Wednesday and taken to Lumpini Police Station where he was charged with possessing marijuana and crystal meth.
"If he wants to apply for bail, he can do it tomorrow when we take him to the court," police Lt. Col. Siriphong Phumlaojang said Thursday.
Officers found 0.80 grams of crystal meth and 7.2 grams of marijuana on the suspect Thursday, according to the police report, which misidentified him as Turkish.
The 38-year-old interpreter has not been charged yet with drug use as police were still waiting for test results from Police General Hospital. Although such testing is usually completed quickly, Siriphong said it would take two weeks.Police had earlier said the results would be ready by Thursday.
---
Bombing Suspects' Interpreter Says Cops Plant Drugs on Him
---
Bakhodirov has been working as an interpreter between English and Uighur for Karadag and Mieraili since September. Both Uighur suspects are accused of being behind the worst terror attack in Thailand's recent history on Aug. 17 at Bangkok's Erawan Shrine which killed 20 people.
Both defense lawyers, Schoochart Kanpai and Chamroen Panompapakorn, said they were not involved in Bakhodirov's case.
"It's his personal problem," said Schoochart on Thursday. "Though we might visit him at the prison later."
After the arrest yesterday, Bakhodirov failed to provide his passport to police. Instead he was only able to show them a copy and claimed that his passport was with his sister in Uzbekistan.
The lawyers of both Uighur suspects admitted Bakhodirov is overstaying his visa but authorities related to the case have acknowledged this problem since September.
There is a chance that Bakhodirov will be deported back to Uzbekistan according to Thailand's immigration regulations.
Schoochart, Karadag's lawyer, sent his representative to announce the incident to the military court this morning. He said it depends on the court whether to arrange a new discussion between prosecutors and defense lawyers team regarding the problem.
"It's likely that he can no longer work as an interpreter for the case and we will have to find a new interpreter again," said Schoochart. "Unless he was granted bail."
Chalida Tajaroensuk, the Director of People's Empowerment Foundation, who help arrange the lawyer for Mieraili also said they are preparing to find a new interpreter.
Bakhodirov remained in detention at Lumpini Police Station as of Thursday afternoon.