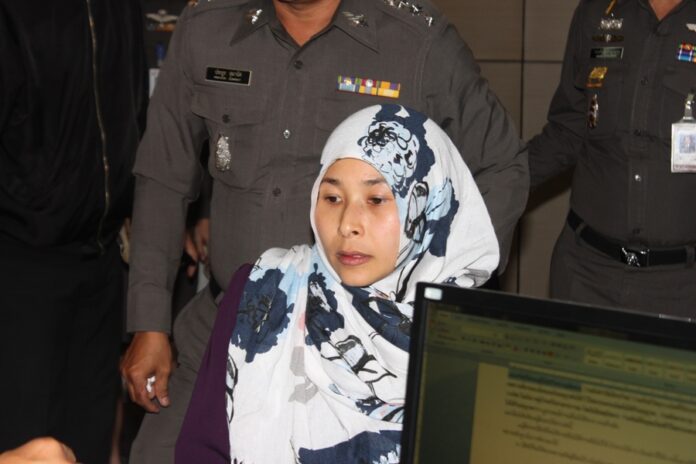 BANGKOK — After two years on the run, a woman accused of colluding with the engineers of Thailand's worst terror attack suddenly reappeared at Bangkok's international airport yesterday.
Wanna Suansan, 29, who was arrested Wednesday upon landing at Suvarnabhumi Airport, said through her lawyer that she returned with the intention of proving her innocence.
"She said she came back to fight her case," Bodeesorn Paosuthor said, adding that his client would only testify in court.
Wanna left Thailand six weeks before a bomb went off at the popular Erawan Shrine in August 2015, in what was considered the kingdom's worst terror attack in modern history. Many of the victims were tourists of Chinese descent.
Police accused Wanna and her husband, a Turkish suspect who's still on the run, of colluding with the bombers. Wanna denies all allegations, according to Bodeesorn.
Wanna is the third suspect to be arrested in connection with the 2015 bombing, after two Uighur men Adem Karadag and Yusufu Mieraili. Karadag is identified as the man who planted the bomb at the shrine, while Mieraili is accused of finding equipment for the bomber. Both men deny all allegations.
Like the two men, Wanna will be tried under the military court. Her lawyer said today that she is unlikely to be granted bail.
Special Branch police commander Chayapol Chatchaidet said his force learned yesterday that Wanna was due to return to Thailand on the same day. The government of the country she departed from has requested Thai police not to publicly identify them by name, said Maj. Gen. Chayapol, whose agency oversees police intel gathering.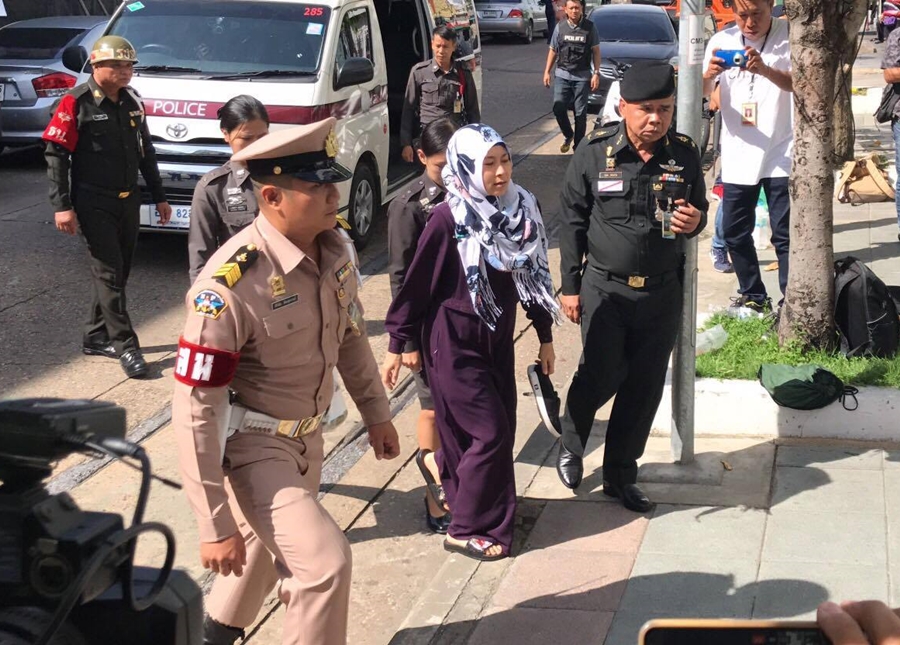 Reporters at the scene of the arrest say Wanna was traveling from Turkey. Immigration records from 2015 also say she left Thailand for Turkey.
Asked why Wanna abruptly returned to the country after two years on the run, Chayapol said, "Police will gather information about her motive."
A total of 17 arrest warrants were issued in the wake of the bombing. Apart from Wanna, Karadag and Mieraraili, no one else has been arrested. Fugitive suspects include Wanna's husband, a Turkish national named Emrah Davutoglu.
"We are trying to track down the rest," Chayapol said.
No group has ever claimed responsibility for the attack.
Police described it as revenge by human smugglers for cracking down on their network.
Most analysts believed it was staged by militants upset at Thailand's decision to deport Uighur refugees back to China, where a history of abuses toward Uighur ethnics are routinely documented by civil rights groups. Twenty-five of those refugees who remained incarcerated in an immigration detention center in Songkhla province escaped and fled earlier this week.
Turkish Link
After the attack, a growing body of evidence established many links to Turkish suspects.
When police raided Wanna's home in the south of Thailand, her family said she told them she was in Turkey with her husband. Piles of forged Turkish passports were found in the raid that netted the man now on trial for leaving the bomb, Adam Karadag, who was using a fake Turkish passport.
A number of Turkish nationals were named in arrest warrants, but no mention of them was made again after the arrests of two suspects investigators said were the attack's masterminds.
Both were ethnic Uighurs, a majority Muslim and ethnically Turkic group who speak a language similar to Turkish, in China's restive Xinjiang province.
For this, China brands them terrorists and put the screws on Bangkok for many months to hand over a large group of Uighurs caught in the kingdom en route to Turkey.