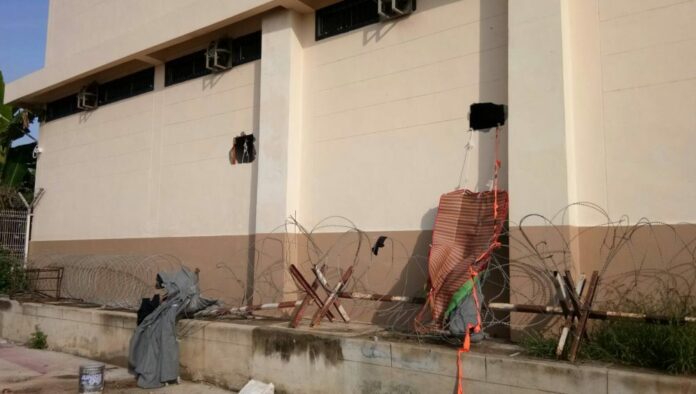 SONGKHLA — Police were hunting Monday for 20 Uighur refugees who escaped from an immigration detention facility where they had been held over three years in Songkhla province.
At around 2:30am today, police were alerted that 20 men had broken out of the detention center in Songkhla's Sadao district. They had drilled holes through a bathroom wall and used climbed out using a cloth, district police chief Col. Seksan Kaewsawang said.
The 20 immigrants were 25 Uighurs remaining in custody at the center. Five were captured during the escape attempt.
They are among 200 Uighurs, including whole families with women and children, who were captured in February 2014 in a raid on a Songkhla rubber plantation.
Hundreds of Uighurs have passed through Thailand fleeing what they describe as persecution in the restive province of Xinjiang. China brands them terrorists for a number of attacks which have occurred there on ethnic Han Chinese.
Under pressure from Beijing, Thailand deported more than 100 of them against their will back to China in July 2015. China branded them terrorists and broadcast photos of them being flown back with hoods over their heads. Revenge for the military government's decision to forcibly repatriate them was a leading theory for the bombing of Bangkok's Erawan Shrine six weeks later.
The 25 who remained were those whose nationality could not be determined and had no documents, according to Col. Natthapakin Kwanchaipruk of Immigration Bureau Region VI.
Natthapakin said Monday afternoon that police were coordinating with Malaysian authorities since the escapees were thought to be heading that way.
Related stories:
Little Known About Escaped Uighur Detainees
Uighur Militancy Changes Chinese Security Strategy
Mounting Evidence Links Bombing to Turks, Uighurs