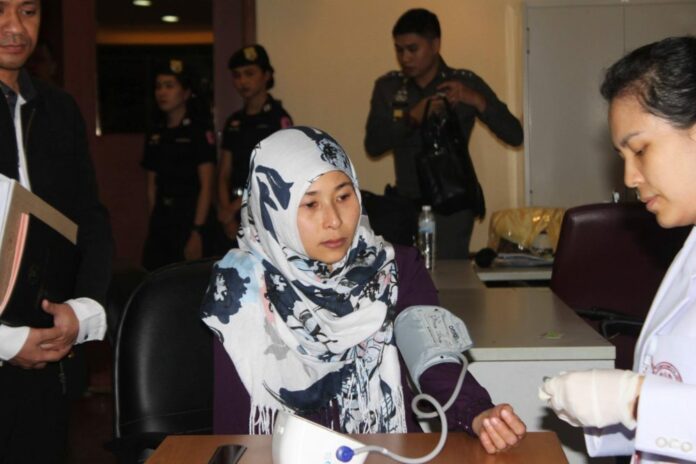 BANGKOK — A 29-year-old woman accused of conspiring in Thailand's worst terror attack two years ago will be freed on bail Wednesday after more than two weeks in prison.
Wanna Suansan, who was arrested late last month upon returning to Thailand, will walk free at about 6pm, her lawyer Chuchart Kanpai said. Her foreign husband, a member of an ethnic group implicated in the attack who's also wanted in connection to the 2015 bombing that killed 20, is being held by Turkish authorities for using a forged passport, the attorney said.
"He wants to come back and fight the case, too," Chuchart said. "He already asked. But the Turks denied it."
Read: Shrine Bombing Suspect Reappears to 'Fight Her Case'
Wanna and her husband Emrah Davutoglu were among the 17 people wanted for allegedly engineering the attack on popular Erawan Shrine in August 2015. The pair left Thailand for Turkey six weeks before the attack took place.
Wanna was last known to be in Turkey, and she returned to Thailand after two years abroad on Nov. 22 vowing to clear her name. She was arrested at the airport and sent to stand trial in a military court, which had denied her bail release – despite the fact she is pregnant – until now.
Wanna was the third suspect to be arrested in connection with the bombing after Adem Karadag and Yusufu Mieraili, both Uighur men from China's restive frontier province of Xinjiang. Karadag is accused of planting the bomb at the shrine while Mieraili allegedly found materials and aided the bomber.
Both men deny all the charges against them. Over two years later, their trial has barely gotten underway.
Wanna returned without her husband. A commander of the Special Branch police, one of the many agencies investigating the case, denies any knowledge of Davutoglu's whereabouts.
"I don't know where he is," Maj. Gen. Chayapol Chatchaidet said. "We have no information about that. We only have information concerning Wanna."
But Chuchart maintained Davutoglu has been held in custody since the moment he stepped foot in Turkey back in 2015. The lawyer said Davutoglu is an ethnic Uighur with Chinese nationality, not Turkish as previously reported, and he was traveling with a counterfeit passport.
"Emrah wants to turn himself in and fight the case in Thailand," Chuchart said. "But he's not a Thai national, so the Ministry of Foreign Affairs cannot request his extradition."
Both Wanna and her husband deny all allegations against them, he added.
A police source who spoke on condition of anonymity said Turkey has requested the Thai government not mention its role in the ongoing investigation.
"They asked us not to get them involved," the source said. "They are afraid of a backlash from the Uighurs."
At the height of the investigation, Thai officials were loathe to mention Turkey by name despite the fact leading theories pinned it on revenge by Uighurs for the forced repatriation of 100 Uighur refugees to Beijing, where they were condemned as terrorists.
China has struggled to contain a separatist movement in Xinjiang, where the majority Muslim Uighurs share ethnic and linguistic bonds with the Turks.
Late last month, the remaining 20 Uighurs held over three years at a southern Thai immigration detention facility escaped. They were thought to be trying to make their way to Malaysia. Twelve remain at large.