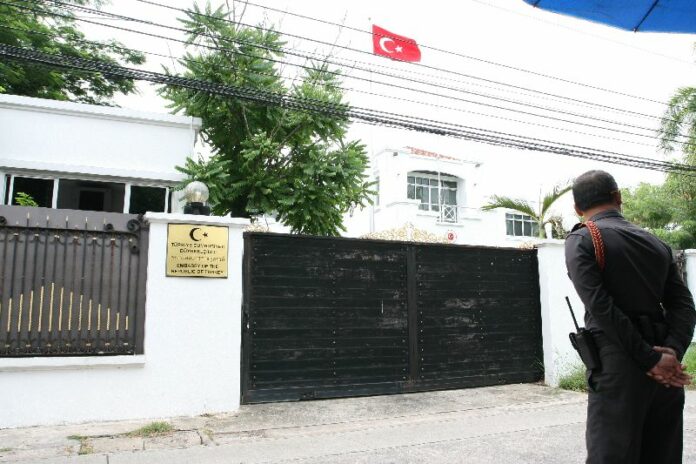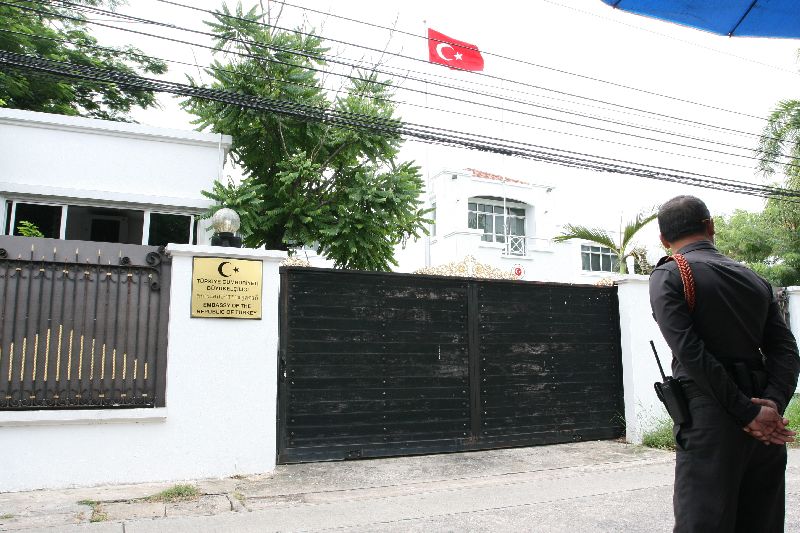 BANGKOK — Junta chairman and Prime Minister Prayuth Chan-ocha has defended his government's decision to deport nearly 100 members of a persecuted ethnic minority to China.
Officials confirmed that 90 Uighurs who entered Thailand illegally were flown this morning to China, where human rights groups have documented state-sanctioned discrimination against the Muslim group. One hundred and seventy three other Uighur immigrants were also sent to Turkey last week, according to a government spokesperson.
Last night, crowds attacked the Thai Consulate in Istanbul to protest the Uighur's impending deportation to China. The protesters broke into the Consulate office and smashed windows, according to Thai officials.
In a statement issued today, the UN High Commissioner for Refugees expressed alarm at the Thai government's move.
"UNHCR urges the Royal Thai Government in the strongest possible terms to allow those remaining to depart voluntarily and as soon as possible to a country of their choice which is willing to receive them," the statement said.
Speaking to reporters today, Gen. Prayuth said his government has fully adhered to "laws and international obligations" by identifying the nationalities of the Uighur immigrants and sending them back to their respective countries.
"As an intermediary country, we have to inspect and categorize them clearly," Gen. Prayuth said. "If we didn't do this, there would be problems."
When a reporter asked whether Gen. Prayuth is confident that the Uighurs sent back to China will be safe, the junta chairman replied,
"China has guaranteed their safety to us. They insist they will be processed in justice system. If they are not involved [in any wrongdoings] they will be freed. They will be given jobs. If evidence clearly establishes [their guilt], they will face legal action, and the severity will depend on their offence."
Maj Gen Weerachon Sukhondhapatipak, a spokesperson of the Thai government, said this morning that Chinese authorities have assured Thailand that the deported Uighurs will be provided with jobs, welfare, and "assistance consistent with human rights principles."
He told reporters that China expressed concern that Thailand previously deported 170 Uighurs to Turkey, because Chinese authorities suspected that the deportees may have been involved in a "[political] movement" in China. However, Thai authorities established that the 170 were Turkish nationals, and were not clearly implicated in any illegal behavior in China.
"The Chinese government has contested the deportation and asked for inspection, but there was no clear evidence, so we sent them to Turkey," Maj.Gen. Weerachon said.

Junta chairman Gen. Prayuth Chan-ocha speaking at the Government House, 9 July 2015.
Speaking to reporters today, Gen. Prayuth said that Thai and Turkish authorities are coordinating closely to ensure the safety of Thai nationals living in Turkey.
He then asked the media to help ease tension between Thailand and other nations.
"Why are you dragging Thailand into a conflict with Turkey, China, or with the Uighurs?" Gen. Prayuth said. "In reality, we are not having a conflict with anyone. Don't worry about this. It will be resolved soon. Otherwise, it will escalate into this issue and that issue, into issues about Muslims, and things will be out of control. The media should help reduce these issues. I am not opposing the media's viewpoint, but I want you to look where the national interest is."
NOTE: Khaosod English has censored parts of Gen. Prayuth's speech that contained obscene remarks.