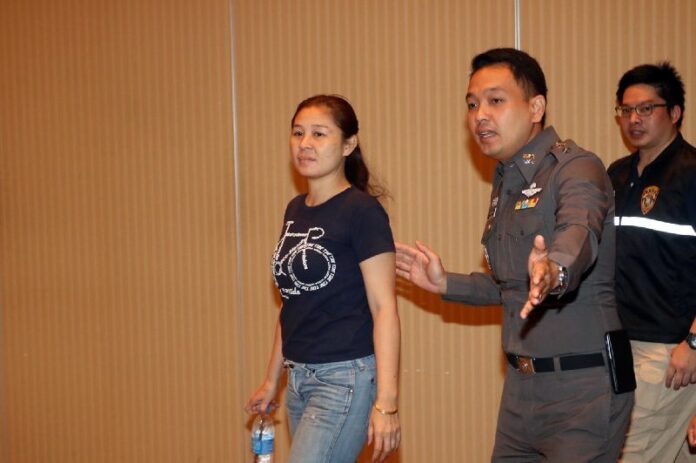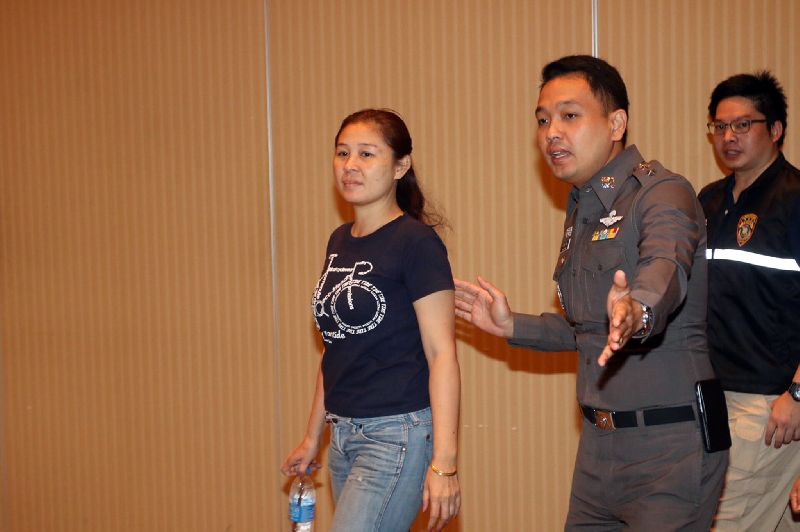 BANGKOK — Police say a 45-year-old woman arrested for spreading a libelous rumor about junta chairman Prayuth Chan-ocha is connected to an anti-monarchy network.
Thai police announced the arrest of Rinda Paruechabutr, 45, at the police headquarters in Bangkok today. Police say she is a supporter of the Redshirt movement, which backed the government toppled by Gen. Prayuth in a coup d'etat last May.
She now faces up to twelve years in prison after being charged with violating Computer Crime Act, inciting unrest, and causing panic among the public.
According to Thai police chief Pol.Gen. Somyot Pumpanmuang, Rinda wrote on her Facebook on 6 July that Gen. Prayuth transferred 10 billion baht to an offshore bank account in Singapore. Gen. Prayuth, who also serves as Prime Minister, has denied the allegation.
"Mrs. Rinda admitted to us that she wasn't fully aware of consequences [of her postings]," Pol.Gen. Somyot said at the press conference. "I would like to warn people to be careful when they post or send messages that are potentially illegal, and I want them to consider that the rights and freedom of others should not be violated. If the action breaks any laws, officials will strictly take action."
Citing police's investigation, Pol.Gen. Somyot also asserted that Rinda has a "connection" to the overseas anti-monarchy network headed by Manoon Chaichana, aka 'Anek San Francisco,' a Redshirt activist believed to be residing in the United States. Manoon is wanted by Thai police for violating Section 112 of the Thai Criminal Codes, which outlaws criticism of the monarchy and carries up to 15 years in prison.
"She has connection to the network of Mr. Anek San Fran[cisco], the suspect who violated Section 112 and who is still on the run," Pol.Gen. Somyot said.
At the press conference, Rinda said she posted the message after someone texted in to her through the chat application LINE, and insisted that she had no intention to damage the country.
"I think that, as a citizen, I have the rights to criticize and express my opinion, since the Prime Minister is a public figure," Rinda said. "But I concede that my words affect other people. So I'd like to warn other people who use social media to be careful, because this is a sensitive issue."
Last month, a 49-year-old woman was arrested for allegedly spreading a rumor about a counter-coup in Thailand. She was charged with violating the Computer Crime Act and insulting the monarchy, and is now facing trial in military court. Police said she also has ties to Anek, who police have accused of backing the "terrorist network" behind an abortive plan to stage bomb attacks in five different locations around Bangkok earlier this year.
Since staging the coup against the Redshirt-backed government in May 2014, Gen. Prayuth has kept a tight lid on freedom of expression in the name of restoring peace and order. Wielding near-unlimited powers granted to him by the interim constitution, the junta chairman has banned protests, sent anti-junta dissidents to stand trial in martial court, and repeatedly asked media agencies to refrain from criticizing his military regime.