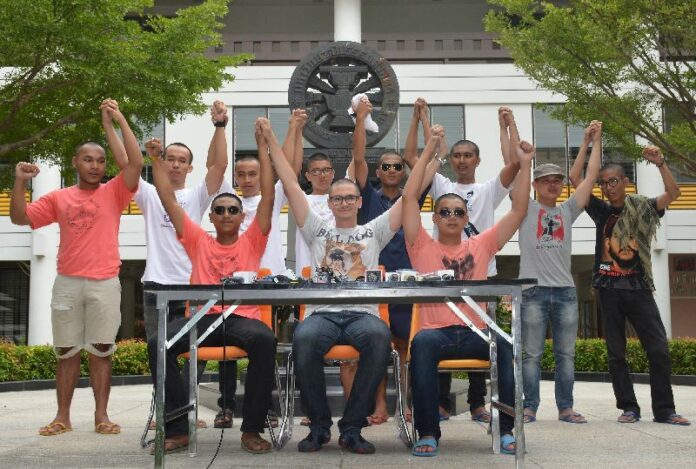 BANGKOK — A prominent Democrat Party politician has alleged that a group of former Communist insurgents are pulling the strings behind the fourteen anti-junta activists who are facing trial in military court.
Bhumisan Seneewong na Ayutthaya, chairman of the party's strategic committee for northeastern Thailand, said today that although the fourteen activists have "good intentions," the Democrat Party has received information that they are being backed by former leftist and communist fighters who fought in the northeast during the 1970s.
According to Bhumisan, these ex-leftists also served as advisers to former Prime Minister Thaksin Shinawatra, the de facto leader of the Redshirt movement who was ousted by the military in 2006 and has been living in self-imposed exile since 2008 to avoid a corruption conviction.
"Today, Thaksin is now a convict on the run, but these former leftists are still trying to establish the regime that they like, by using the same old trick of exploiting young people – those who are innocent and not – as their instruments," Bhumisan said at a press conference at the Democrat Party's headquarters in Bangkok.
The fourteen activists, eleven of whom are university students, are facing up to seven years in prison on charges of violating the military government's ban on protests and inciting unrest with their peaceful campaign against the junta, which seized power from a pro-Thaksin government in May 2014.
Leading members of the military junta have accused the activists of being puppets of "politicians," yet they have not provided any evidence or identified anyone by name.
Bhumisan asserted that the information he gave to the press today was confirmed by former communist insurgents who have become "defenders of the monarchy" in recent decades.
"They lamented to me that those people [the pro-Thaksin former leftists] have lost their ideology to the vicious capitalist regime, yet they still exploit the proletariat class as instruments in their game," Bhumisan told reporters. "They also told me, today there is no communist left in Thailand, only [corruption]. Therefore, I would like to ask young people who truly have democracy in their hearts to exercise their judgement and wisdom to understand what the real world really is like, and who has been continuously harming our homeland."
Known for its conservative, pro-establishment stance, Thailand's Democrat Party has acted as a major figure behind the successive campaigns against Thaksin and his political allies in the past decade. However, the party has not won a single national election since 1992.
Yesterday, the fourteen activists held a press conference and vowed to continue their effort to revive democracy and civil rights in Thailand.
"I insist that we will continue our campaign as students, activists, and people who believe in democracy," said Rangsiman Rome, a law student at Thammasat University. "We hereby announce that we are willing to cooperate with all organizations whose stances are in favor of democracy, human rights, justice, public participation, and non-violence."
Rangsiman added, "Government officials keep saying that we have been hired or are backed by politicians or connected to foreign organizations, but they have no evidence. I would like to ask, who are these organizations? What evidence do you have? The coup regime has been attempting to smear us in order to build legitimacy to use of violence against us, like what the students experienced on 6 October 1976."
Rangsiman was referring the October 6 massacre, when at least 46 people were killed after security forces and right-wing militants stormed the site at Thammasat University where several thousand left-leaning students were holding a peaceful rally. The massacre was described by authorities at the time as an operation to clear Communist insurgents from the university.