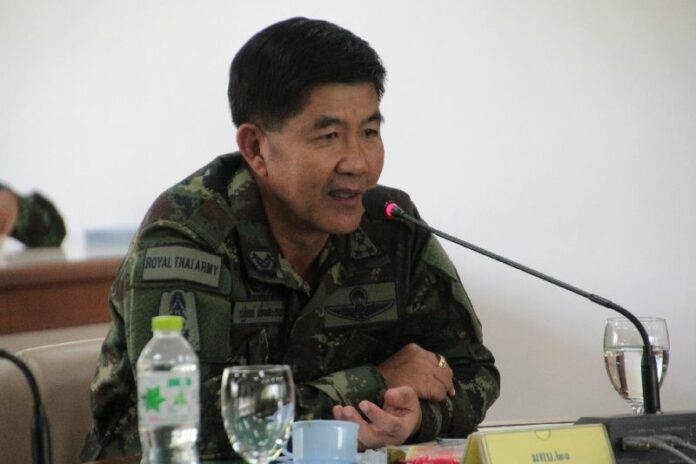 NAKHON RATCHASIMA — Army commanders have apologized to a pro-junta activist in northeastern Thailand who was falsely accused by soldiers of supporting an anti-junta student activist group last week.
Supot Piriyakiatsakul, a 69-year-old veteran Yellowshirt activist who welcomed the 22 May 2014 coup, said seven soldiers from the 21st Army District Army arrived at his house in Nakhon Ratchasima last week while he was out. They then asked his neighbors to warn him to stop "getting involved" with seven anti-coup student activists who were arrested by police last month. Otherwise, "we will get involved with you," the soldiers reportedly told his neighbors.
Supot was shocked and angered by the warning because of his staunch support for the ruling military junta.
Today two army commanders invited Supot to a military base in Nakhon Ratchasima to deliver a formal apology. Col. Patikorn Eiamla-or, a senior commander of 21st Army District, said the incident was a misunderstanding.
"I would like to apologize to you, brother," Col. Patikorn said. "I insist with my dignity as a soldier that I had no intention to use my power or duty to cause conflict in society."

Supot Piriyakiatsakul (center) listens to apologies from army commanders at a military base in Nakhon Ratchasima, 10 July 2015.
Maj.Gen. Prawit Hookaew, a commander of the Second Region Army, said he would teach his subordinate units to act more "softly and politely" in order to avoid unnecessary confrontations.
Supot said he accepted the apology and hoped that the incident would not happen again.
"Even though I am a Thai of Chinese descent, my heart is dedicated to love for my country. I have been campaigning in politics since 2006 by choosing to stand on the side of the righteousness," said Supot, who has participated in several campaigns organized by Thailand's Yellowshirt movement. "I have always supported the military in all their actions."
He continued, "But soldiers' attempt to search my residence has damaged my reputation. They acted like they were arresting some bandit. It's like pushing a friend to join the enemy. I am not a person of great influence. I do not want anything more than apology and assurance that this incident will not happen again."
The anti-junta activists Supot was accused of supporting, members of a Khon Kaen University student network known as "Dao Din," are now facing trial in military court on charges of inciting unrest and violating the junta's ban on protests.