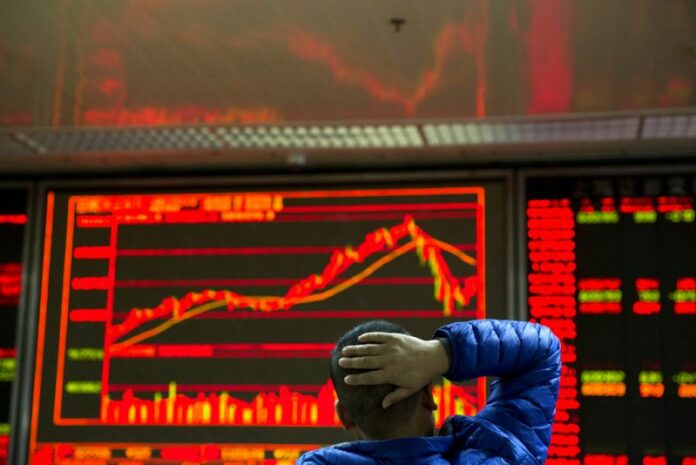 BEIJING — Asian stocks were mixed Wednesday following overnight gains on Wall Street as investors looked ahead to a likely U.S. interest rate hike.
KEEPING SCORE: The Shanghai Composite Index was unchanged at 3,279.43 while Tokyo's Nikkei 225 lost 0.3 percent to 22,805.80. Hong Kong's Hang Seng gained 0.5 percent to 28,925.73 and Seoul's Kospi advanced 0.4 percent to 2,471.74. Sydney's S&P-ASX 200 was unchanged at 6,015.00. Benchmarks in New Zealand and Singapore declined while Taiwan and other Southeast Asian bourses were higher.
WALL STREET: Big-name companies gained, delivering records for two of the major stock indexes. Banks and other financial stocks led the gainers as the Fed met to discuss interest rates. Technology stocks declined the most. Energy stocks also fell as crude oil prices closed lower. Bitcoin futures fell on their second day of trading. The Standard & Poor's 500 index rose 0.2 percent to 2,664.11. The Dow Jones industrial average gained 0.5 percent to 24,504.80. The Nasdaq composite lost 0.2 percent to 6,862.32.
FED WATCH: The U.S. central bank is expected to raise rates Wednesday for the third time this year, which allows banks to charge more to lend money. Even though inflation has remained low, the Fed has seen a path to gradually raise rates as the economy and labor market have strengthened. An increase of 0.25 percent in short-term interest rates "is as good as a done deal" based on options markets pricing, Mizuho Bank said in a report. Investors will be listening for any hints the Fed could pick up its pace on rate hikes next year.
ANALYST'S TAKE: "The Fed looks set to hike the Fed funds rate, so it is really down to how quickly we can react to any changes in the 'dots plot,' as well as to the general tone of the statement," said Chris Weston of IG in a report. He noted outgoing Fed chair Janet Yellen will be holding her final press conference. "One questions how much the market will react to her views, although she does speak on behalf of the collective," said Weston. "Either way, it promises to be a big night for markets even if implied volatility is still quite subdued and options markets are not pricing in fireworks."
EUROPE: The European Central Bank and the Bank of England will have policy announcements on Thursday. Neither is expected to change rates, leaving the focus on their economic forecasts.
CURRENCY: The dollar declined to 113.45 yen from Tuesday's 113.54 yen. The euro strengthened to $1.1749 from $1.1739.
ENERGY: Benchmark U.S. crude rose 41 cents to $57.55 per barrel in electronic trading on the New York Mercantile Exchange. The contract fell 85 cents on Tuesday to $57.14. Brent crude, used to price international oils, advanced 61 cents to $63.95 in London. It plunged $1.35 the previous session.