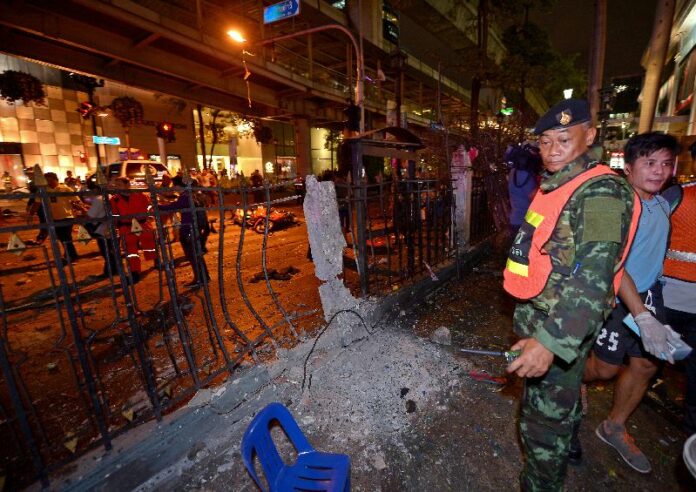 BANGKOK — The first court examination of a witness in the bomb attack that killed 20 people last year was adjourned on Tuesday because an interpreter for the two accused bombers jumped his bail on drug charges.
The delay meant that not a single person has testified to the trial on the Aug. 2015 deadly bombing of Erawan Shrine so far. The lengthy trial has already angered some victims of the attack who felt that the authorities are not doing enough to bring those responsible to justice.
Angry Victims and Families of Shrine Bombing Still Wait for Justice 1 Year Later
"The former interpreter has a case with Lumpini Police Station and he is now running from court warrant. So he cannot go to court today," said a defense lawyer, Schoochart Kanpai. "The defense team and the court are trying to find a new interpreter."
Schoochart represents Adem Karadag, one of the two Chinese Uighur men currently on trial for allegedly carrying out Thailand's worst terror attack in recent memory. Their former interpreter, Sirojdolin Bakhodirov, was pulled out from the court proceedings after he was arrested and charged for drug possession.
Bakhodirov, a 38-year-old Uzbek national, had translated for Karadag and his alleged accomplice Yusufu Mieraili since the investigation began in Sept. He is now being sought by police for jumping his bail.
Schoochart said the World Uyghur Congress has offered to send and finance an Uighur translator for the trial if the judges agree. The interpreter is a Turkish national named Omer Kanet, Schoochart said, adding that the court would take seven days to review the request.
At the same time, the military court will also try to find a new Uighur interpreter on its own.
Two witnesses were originally scheduled to take the stand on Tuesday and Wednesday: a police English interpreter English interpreter Lt. Col. Thuaythep David Wiboonsilp and head of police investigators Lt. Col. Somkiat Ploytubtim.
The examination was adjourned to Sept. 15-16.
Thuaythep is among 447 witnesses prepared by the prosecutor. Like his former counterpart Bakhodirov, the officer had been interpreting in the case since the investigation began.
Transfer Denied
The military court today also rejected the defendants' request to move from an army detention facility, where they had been held for nearly a year, to a civilian prison.
Both Karadag and Mieraili previously said they were tortured under custody. After being asked by the military court to look into the claim, the Department of Corrections submitted a report to the judges on Tuesday saying the allegation was groundless.
The suspects are being held at the 11th Army Circle base in Bangkok.
"The court said because the case was about national security, it's not secure to imprison them along with ordinary inmates [in a civilian prison]." Schoochart said.
Schoochart added that the trial may last until the end of 2017.
Related stories:
Bombing Suspects' Interpreter Says Cops Plant Drugs on Him
Erawan Shrine Reopens After Car Plows Through, Injuring 6
Erawan Shrine Bombers First Targeted Pier for Chinese Tourists