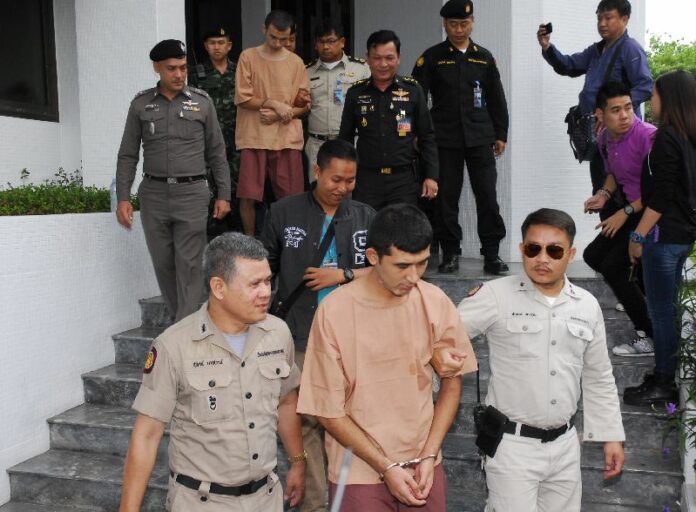 BANGKOK — An interpreter for the two men on trial for last year's deadly bombing in Bangkok denied he was carrying drugs when police arrested him Wednesday after he testified in their trial.
Sirojiddin Bakhodirov, an Uzbek man who's been helping translate for the two Uighur defendants since September, denied possessing marijuana and crystal meth when the police stopped him on Soi Sukhumvit 5. Police said it was mere coincidence that brought them to stop and search Bakhodirov on the same day he testified in a military courtroom that he has been attacked and threatened to not help the two men.
---
Bombing Suspect Interpreter Arrested After Telling Court 'I Worry About My Life'
---
"He said he was not involved and the drugs did not belonged to him," said Schoochart Kanpai, Karadag's lawyer who went to meet him at Lumpini Police Station. "So he refused to sign the record of the arrest."
Bakhodirov, 38, has been interpreting for Adem Karadag and Yusufu Mieraili since they were placed in military custody in September. Karadag, aka Mohammad Bilal, and Mieraili are accused of staging the bomb attack at the popular Erawan Shrine on Aug. 17, killing 20 people, mostly Chinese tourists. Bakhodirov, who's overstayed his visa, expressed fear he might be deported to Uzbekistan.
Only a Coincidence
According to police's arrest record, which was distributed to reporters, officers learned from an informant that a drug-carrying foreigner was seen near Soi Sukhumvit 3, and they apprehended Bakhodirov at Soi Sukhumvit 5, a street colloquially known as Soi Africa for its concentration of foreign nationals.
Officers found 0.80 grams of crystal meth and 7.2 grams of marijuana on the suspect, according to the police report, which misidentified him as Turkish.
Col. Pornchai Chalordech, commander of Lumpini Police Station, said it was merely a coincidence that the suspect is an interpreter for the men who were the most wanted terror suspects in the kingdom.
"It was just a coincidence that he was interpreter for the bombers," Col. Pornchai said by telephone. "We didn't [stalk] him or anything. The police patrol thought he was acting suspicious, so they arrested him and found the drugs."
But defense lawyer Schoochart, who had talked with Bakhodirov at the police station, said the Uzbek man told him a very different story.
Defense lawyer Schoochart Kanpai talks to a policeman at Lumpini Police Station.
Schoochart said he and other defense lawyers went to have lunch with Bakhodirov at Nouvo City Hotel after this morning's trial, then Bakhodirov's friend called him that he needed the key of the room they were staying, so he abruptly left the table without finishing the meal.
According to Schoochart, Bakhodirov said the taxi he took from the restaurant was stopped by police. He was ordered to the ground and told to put his hands up. Upon searching, police produced the drugs which he said he had never handled.
Bakhodirov was taken a for drug test at Royal Police Hospital. Police can hold him in custody for 48 hours without charges.
Deportation Looming
Schoochart said police also asked Bakhodirov for his passport in order to verify his immigration status. He could only provide a copy, saying the real passport was with his sister in Uzbekistan.
Residing in Thailand without proper travel documents is punishable by deportation.
On top of that, Bakhodirov has already overstayed his visa in Thailand, a crime that also can result in deportation. In fact, the defense lawyer team raised the issue about Bakhodirov's status to the military court just this morning. The judges said they would coordinate with relevant agencies to solve the problem.
Although the word "overstay" was not directly mentioned during the trial, Schoochart said all personnel involved in the trial have always known Bakhodirov to be an overstayer since he stepped in to help translating the case in September.
As the interpreter will be held in detention tonight, Schoochart said he will also have to go to military court tomorrow to announce the incident, which could slow the whole process.
He also lamented that the arrest of Bakhodirov will severely affect the his effort to provide counsel to Karadag.
"As you may see, there will rarely be anyone who wants to be involved with the case [from now on]," he said.
Additional reporting by Teeranai Charuvastra
Correction: An earlier version of this story contained an error in the second to last paragraph which suggested that Schoochart Kanpai provides legal counsel to Adem Karadag and Yusufu Mierali . Schoochart Kanpai only represents Adem Karadag.
Related stories:
Bangkok Bombing: Chinese Uighur Karadag Tortured Into Confession, Lawyer Says
Interactive: Who's Who in the Bangkok Bombing Investigation
500 Witnesses to be Called in Bangkok Bombing Trial