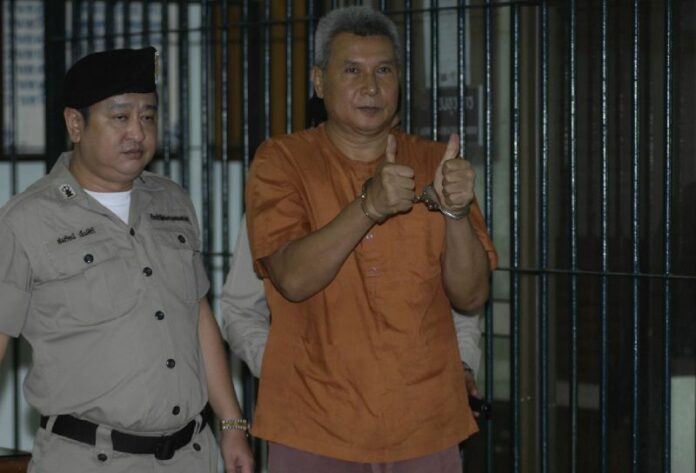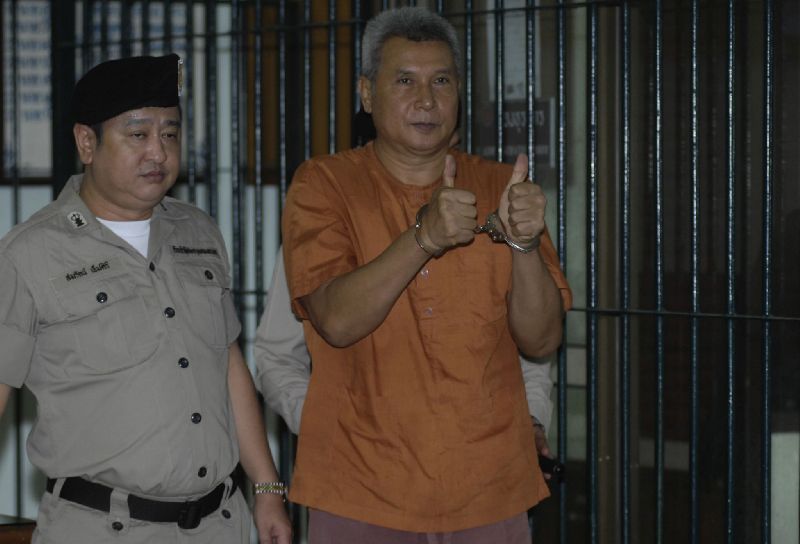 BANGKOK — A singer-turned-activist was sentenced today by the Criminal Court to seven and a half years in prison for defaming the monarchy, and instructed to author a song promoting national reconciliation after he has served his time.
Thanat Thanawatcharanon, who contested the charge until reportedly confessing out of despair, was also told by the judge to plant trees in honor for His Majesty the King after completing his seven and and a half year jail term.
---
Activist's Mother Defamed Monarchy With Her Silence, Police Say
---
Thanat, 58, was originally sentenced to 15 years in prison, but his sentence was halved for entering a guilty plea. He will actually serve a sentence of around five and a half years from today as he been in jail since his arrest nearly two years ago.
Thanat's friend and fellow Redshirt activist Yosawarit Chooklom recalled that Thanat looked baffled when the judge gave the unusual instruction about writing a reconciliation song and tree-planting.
"I arrived at the courtroom just as the judge was saying those words, so I thought he got a suspended sentence and some community service," Yosawarit said by telephone Wednesday. "I was so happy for him, then my wife turned to me and said he got seven years and six months."
The judge, who, per court tradition, was not named, also "jokingly" advised Thanat to perform songs in prison in the meantime, according to Yosawarit.
"I guess the judge tried to console Tom," Yosawarit said, referring to Thanat's stage name Tom Dundee.
Thanat was found guilty of royal defamation, a crime known as lese majeste, by insulting King Bhumibol and Queen Sirikit on a Redshirt protest stage in 2013. Lese majeste carries a maximum penalty of 15 years in prison per offense.
Although criticism of the monarchy has long been a taboo in Thailand, lese majeste law has been enforced with greater frequency and harsher sentences since the royalist military generals seized power in the May 2014 coup.
In August, the court sentenced a Redshirt activist to a record 30-year jail termfor committing lese  majeste. Last month, a woman was charged with lese majeste because she did not reprimand someone who allegedly insulted the monarchy in a Facebook chat with her.
'It's Useless to Fight'
Thanat previously entered a not guilty plea and maintained his innocence throughout his time in Bangkok Remand Prison, but he recently changed his plea confessed to the crime on Monday.
According to Yosawarit, who had also spent some time in prison with his friend, Thanat used to be cheerful and "full of jokes" in earlier months of imprisonment. But eventually the prison broke him, Yosawarit said.
Thanat is also due to stand trial for two more offenses – an additional charge of lese majeste and for defying the junta's summon order – both in the martial court, and he's concerned that it would take years to contest those charges.
"He became depressed, so I told him, just confess," Yosawarit said. "Just stop fighting. The other two cases, too. It's useless to fight."
Related stories:
Ex-Convict Crowdfunds Help for Lese Majeste Prisoners
Detained Facebookers Allege Chat Evidence Obtained Illegally
Police Ban 'Marie Claire,' Citing Lese Majeste