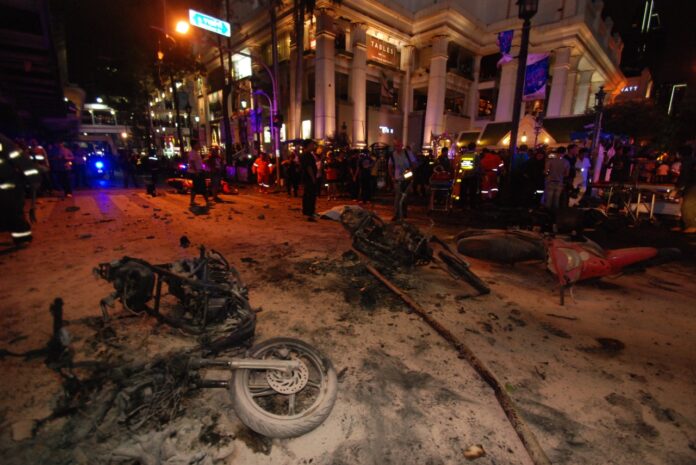 BANGKOK — An interpreter for the two men being tried for last year's Bangkok bombing was arrested this afternoon hours after testifying that he was assaulted by four men who threatened to have him deported for helping the defendants.
Sirojdolin Bakhodirov, an Uzbek national, who has been interpreting for Adem Karadag and Yusufu Mieraili since their first court appearance in February, was arrested Wednesday afternoon by police and is now being held at Lumpini Police Station. A lawyer for one of the defendants said Bakhodirov was being held on a drug-related charge.
Karadag and Mieraili stand accused of carrying out the worst terror attack in modern Thai history, the bombing of Erawan Shrine on Aug. 17, which killed 20 people, mostly Chinese tourists.
Karadag – who also goes by Mohammad Bilal – and Mieraili are both Uighurs, an ethnic minority that suffers documented repression in China, where some have taken to violent resistance.
They deny the charges against them.
In his testimony to the military tribunal Wednesday morning, Bakhodirov said he was attacked and threatened by the four men May 18, one day after both Uighur suspects broke down outside the court in front of the press and insisted on their innocence. He recalled that the men told him to stop "helping two Uighurs escape."
"I worry about my life," the 38-year-old interpreter told the court Wednesday in English. His remark was then translated into Thai by a police interpreter. "I have been changing the place to live for four times now."
Reported Intimidation
Bakhodirov said the assailants hit him in the leg and back. One of them ordering him in English to say everything he knows about the case, he said. They also asked him why a Uighur journalist was in the courtroom May 17.
"They said they will deport me back to my country," he said. "They said the court cannot help me."
Bakhodirov, who has been living in Thailand for four years, said he believed his phone was also tapped.
In response, the judges said they will coordinate with related agencies to see to his safety, as he was not only an interpreter but a witness.
Bakhodirov's fate is further complicated by the fact, admitted by lawyers of both defendants, he has already overstayed his visa and is liable for deportation.
Bakhodirov said if deported he will face seven years imprisonment in Uzbekistan for helping the Thai government.
Without mentioning the overstay offense, Mieraili's lawyer, Chamroen Panompapakorn, asked the court whether the trial process would be affected if his Uighur interpreter is deported due to immigration regulations.
The court replied that it had acknowledged "the problem" and will coordinate with related parties on the matter.
Speaking outside the court, Schoochart Kanpai, who represents defendant Karadag, said the court is already aware Bakhodirov has overstayed his visa.
Dramatic Torture Allegations
Bakhodirov's tale of assault followed allegations by the two defendants,  Karadag, 31, and Mieraili, 27, that they had been tortured in custody.
At their May 17 court appearance, both defendants asked the judges to transfer them out of the 11th Army Circle headquarters, where they have been held since September, citing torture and abuse at the hands of military personnel there.
"I'm not an animal! I'm human, I'm human!" Karadag pleaded to the crowd of reporters before he entered the courtroom that day. He also lifted his shirt to show what he said was injuries caused by the alleged torture.
Two weeks later, the judges today said they are still waiting for the response from Department of Corrections for their request. In the meantime, both of the defendants will remain in the military prison until the next hearing Aug.23.
Karadag and Mieraili were led today into the court through a basement level to avoid contact with the media waiting outside the main entrance.
Evidence Weighed
Meanwhile, in the courtroom, lawyers from both sides have yet to agree on what evidence and which witnesses will be examined in the trial. The defendants' lawyers only accepted evidence that did not concern their clients' direct involvement, such as a roster of fatalities, autopsy reports and list of damages.
Karadag's lawyer, Schoochart, said he expects the trial to continue until mid 2017.
Lawyers for both sides agreed to attend two court sessions a month, each lasting two days. The date of each round was set August to September.
The first of 447 witnesses from the prosecution side is police Lt. Col. Thuaythep David Wiboonsilp, a Royal Thai Police officer who has interpreted between English and Thai since the beginning of the case. He will appear in court Aug. 23 and 24.
Thuaythep is the same officer seen at the side of Karadag and Mieraili as they were paraded before the press for a "crime reenactment" staged by police.
Schoochart said he had around 15 to 20 witnesses to present to the court.
Asked about his client's health, Schoochart said he hasn't visited Karadag at the barracks-turned-prison since early February. But after today's hearing, the lawyer said, Karadag seemed to have more understanding about the process
"I told him, you must behave inside, be a good boy," he said.