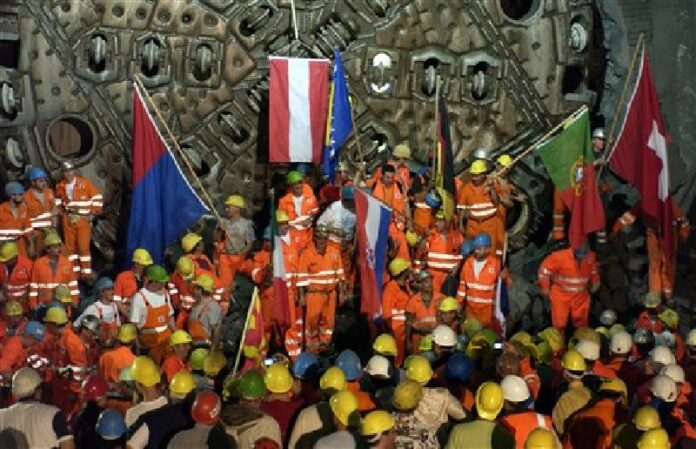 GENEVA — It's taken 17 years and cost 12.2 billion Swiss francs (about USD$12 billion) but Switzerland is finally ready to inaugurate the world's largest railway tunnel.
The ceremony Wednesday to celebrate the completion of the 57-kilometer tunnel through the Alps will be greeted with great fanfare with the leaders of France, Germany and Italy on hand.
In this Oct. 8, 2015 file photo a test train drives close to the northern gate near Erstfeld, Switzerland. Photo: Urs Flueeler / Keystone / Associated Press
The thoroughfare aims to cut travel times, ease roadway traffic and draw cargo from pollution-spewing lorries trucking between Europe's north and south. Once it opens for commercial service in December, the two-way tunnel will take up to 260 freight trains and 65 passenger trains per day.
The Gotthard Base Tunnel eclipses Japan's 53.8-kilometer Seikan Tunnel as the world's longest and burrows deeper — 2.3 kilometers — than any other rail tunnel.
In this Oct. 31, 2013 file photo construction workers are busy in the NEAT Gotthard Base Tunnel between Biasca and Amsteg, Switzerland. Photo: Karl Mathis / Keystone / Associated Press
Story: Associated Press