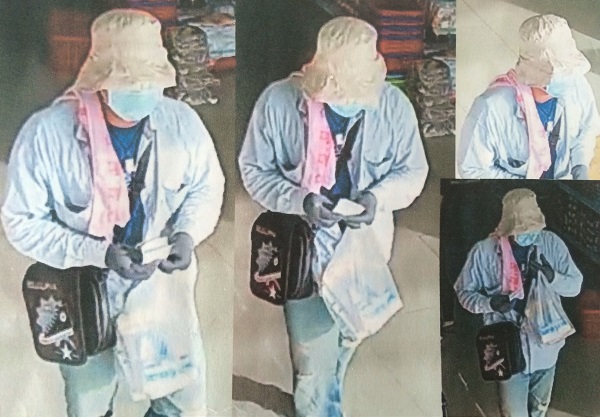 BANGKOK — The hunt for those responsible for a wave of terror attacks that shook the south two weeks ago goes on, but police have revealed very little about the suspected perpetrators.
While national police commanders in Bangkok say there's only one suspect so far, local police in some provinces are searching for persons of interest that they believe to have ties to the attacks, which killed four people over the course of Aug. 11-12, which marked Mother's Day holidays.
Here's the list of suspected bombers who are being sought by national and local police force so far:
Two Seen in Surat Thani Footage
Police in Surat Thani province on Monday offered 100,00 baht reward for anyone who can hand information about two men believed to have committed an arson at a plastic shop there on Aug.12.
Both men were seen by Taweesin Plastic's security camera wearing a mask and a hat to conceal their faces. The commander of Surat Thani police force said the pair pretended to enter the shop to buy something before starting the fire.

"We now have total four suspects for all incidents in Surat Thani," said police Maj.Gen.Apichart Boonsriroj Monday. "But the best pictures which can be released for public to clearly see are only of these two."
Apichart said he also had information about the other two suspects but cannot disclose details about them.
The arrest warrants for the four cannot are not yet issued because police are still waiting for forensic examination result, Apichart said.
Both suspects in the Taweesin Plastic video are believed to be the same pair seen in another CCTV footage from Aug.10 traveling by a tuk-tuk to Surat Thani City Hall, which is close to where two explosions took place on Aug.12.
Apichart said it is still unclear whether these two men are involved in another set of explosions in front of a police station and the Marine Police Division. The latter attack killed one person.
A Pattani Resident Who May Not Exist
On Saturday afternoon, police and military raided an Islamic boarding school in Pattani's Yarang district to search for a 24-year-old student believed to have been involved in the Mother's Day bombings.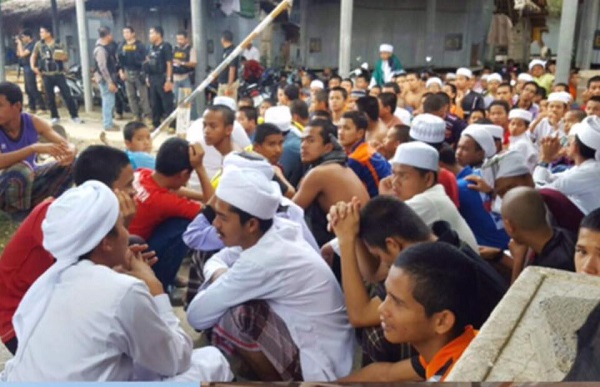 Police and military were told by an informant Saturday morning that someone called Mat Zaifuddin Lomang was a student there, according to chief Anusak Sakdawatcharanon of Yarang Police Station.
Pattani is one of the three southern border provinces, known as the Deep South, where separatists have battled with security forces for over 12 years in their bid for independence. BRN, the most well-armed cell of the movement, is believed by some experts to be the most likely culprit behind the recent attacks.
However, the search didn't turn up Mat Zaifuddin, and he wasn't even listed in the school student roster, police said.
"We didn't have the arrest warrant, just normal searching," Anusak said Monday.
Beyond the information provided by the informant, he admitted that police cannot yet independently confirm whether Mat Zaifuddin is a real person or not.
The Man Who Would be Arrested Twice
Released on Thursday after spending nearly a week in military detention, Sakarin Karuehat may be arrested again soon; a military court in Nakhon Si Thammarat is expected to approve a new warrant for him by Tuesday afternoon.
The 32-year-old Chiang Mai native is accused by police of planting a firebomb that struck a Tesco Lotus supermarket in the southern province on Aug. 12.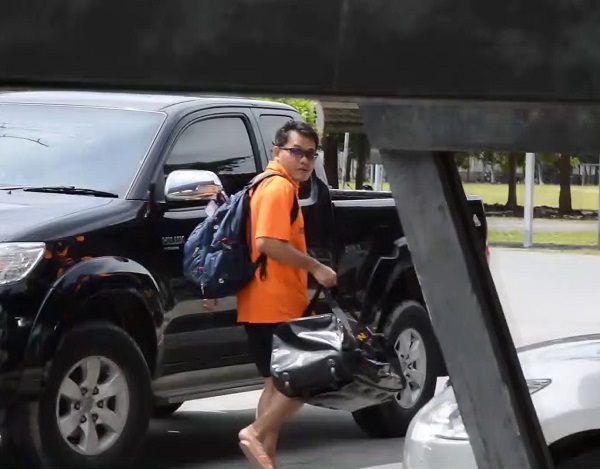 He was first taken from the oil rig where he was working in the Gulf of Thailand into military custody a day after the attack. He was not allowed to see his family or lawyers. His sister denied that he had any involvement in the bombings.
Police later said they have footage of him entering the supermarket with a plastic bag but leaving without it. Investigators also said they had evidences indicating that the fire was caused by explosives.
A civilian court initially approved a warrant for Sakarin on arson charges, so police withdrew the warrant in the light of the forensic investigation, and planned to try him under a military tribunal on explosives-related charges instead.
Man on the Run
Among all these noises, the only one "official" suspect confirmed by national police is Ahama Lengha, a resident of Narathiwat, a Deep South province bordering Malaysia. He was allegedly responsible for the twin bomb attacks in Phuket on Aug. 12.
As of Tuesday morning, he was the only suspect issued with an arrest warrant so far.
The head of police investigation team, Srivara Ransibrahmanakul, said on Aug. 16 Ahama had previous history in the Deep South insurgency but had not since elaborated.
Police could not confirm whether he has already fled the country.
Related stories:
Here's Why Experts Believe BRN Was Behind Attacks
More Than 20 People Carried Out Southern Bomb Attacks, Police Say