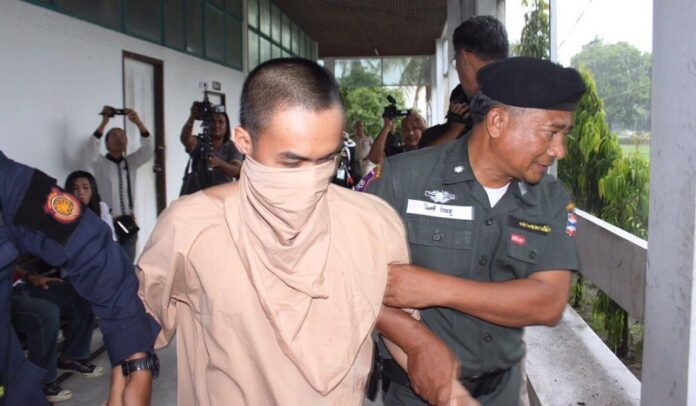 NAKHON SI THAMMARAT — A suspect accused of staging a failed bomb attack in Phuket confessed Tuesday in a military court.
Two weeks after Muhammad Muhi was charged, the 21-year-old from the southern province of Pattani told the military tribunal in Nakhon Si Thammarat province that he was involved in the attempted bombing of two markets in Phuket in August.
Unexploded devices were discovered Aug. 10 at Paradise and Chinatown markets in Phuket's Patong district. The devices were found before a wave of arson and bomb attacks hit seven provinces, killing four people over the next day. Another device was later recovered from the Paradise Market on Aug.14. All devices were defused and no one was injured.
Head police investigator Srivara Ransibrahmanakul said Wednesday that Muhammad had confessed to placing bombs only at the Paradise Market. Muhammad said he accompanied four accomplices to the Chinatown Market where the other explosive was found but did not plant the bomb himself.
Muhammad has been held by the military without charge since September under the junta's special authority. He was charged two weeks later on Oct. 20 with possessing explosives, attempted arson and being part of a criminal conspiracy.
Srivara traveled to Nakhon Si Thammarat province Tuesday to seek permission from the military court to take Muhammad for a police "re-enactment" of his alleged crime. The court rejected the request, as Muhammad testified it could put him and his family in jeopardy.
Read: Phuket Bombing Suspect Charged After Weeks of Military Detention
The military court today approved new arrest warrants for a newly identified suspect, Abdulstopa Sulong (transcribed from Thai). Abdulstopa, 30-year-old from Pattani province, is wanted on the same charges as Muhammad. He was also accused of involvement in three attempted bomb attacks in Phuket.
Tuesday's warrant brought the number of people identified as suspects in the spree of attacks to 10. Only two suspects have been arrested.
All suspects are from the southern border provinces, and more than half have records of involvement in attacks ascribed to the southern separatist movement.
Separatist umbrella group BRN reportedly even took claim for the attack.
Srivara told reporters Tuesday that though Muhammad's confession has led them to other suspects, police still cannot identify a motive for the attacks or link to separatists.