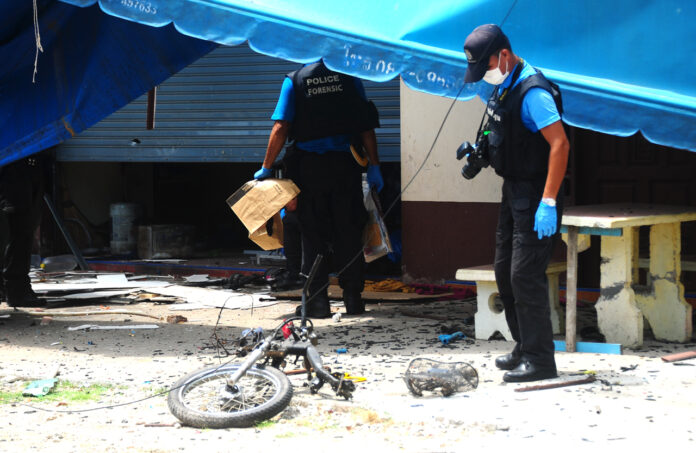 BANGKOK — A secretive separatist group in the southern border region has taken responsibility for last month's bombing attacks in the south of Thailand, according to a news agency.
In an unprecedented move, an unnamed commander in the National Revolution Front, or BRN, told BenarNews it was behind not only Tuesday's bomb attack at a school in Pattani province, but the spree of bomb and arson attacks in seven provinces that killed four people during the Mother's Day holiday in August.
"We claim that the attack in Tak Bai district was the act of our operation, as well as the train bombing and those attacks in the seven upper southern provinces too," the commander was quoted in the report.
In an emailed message, the managing editor of BenarNews confirmed the story's details.
"I can confirm that we spoke to sources within the BRN," Kate Beddal wrote. "… Not able to give more details to protect our journalists."
BenarNews is a nonprofit news site funded by the U.S. government.
Four people were killed in the series of explosions and firebombs that struck seven provinces on Aug. 11-12, which marked the National Mother's Day. No one had claimed responsibility for the attacks so far, but police say evidence increasingly point to separatist movement in the border provinces of Pattani, Yala and Narathiwat.
That separatist movement has historically not claimed responsibility for the frequent attacks it is suspected of carrying out. While the suspected militants in the past mostly targeted Thai security forces, civilians and other "soft targets" have come under frequent attack in recent weeks.
A weaponized motorcycle exploded in front of Ta Ba School in Pattani on Tuesday morning, when parents were dropping their kids off to the school. The blast killed Mayeng Wobah and his 4-year-old daughter, Mitra Wobah, and injured at least 10 others.
The BRN commander told BenarNews the group was targeting a group of police officers standing guard near the school and did not intend to kill civilians.
Authorities and experts have long described the BRN as the most well-armed and active among a network of shadowy militant cells operating in the three southern border provinces. The militants are aiming to secede the Muslim-majority region and revive the independent state of Patani.
At least 6,200 people have died since the separatist violence broke out in January 2004, mostly civilians.
Correction: An earlier version of this story mistakenly described BenarNews as a state news organization. It is in fact funded by the U.S. Broadcasting Board of Governors, according to its website.
Related stories:
BRN Implicated in 'Unprecedented' Ambulance Car Bomb
Separatists 'Crossed Rubicon' With Attacks, May Escalate: Expert