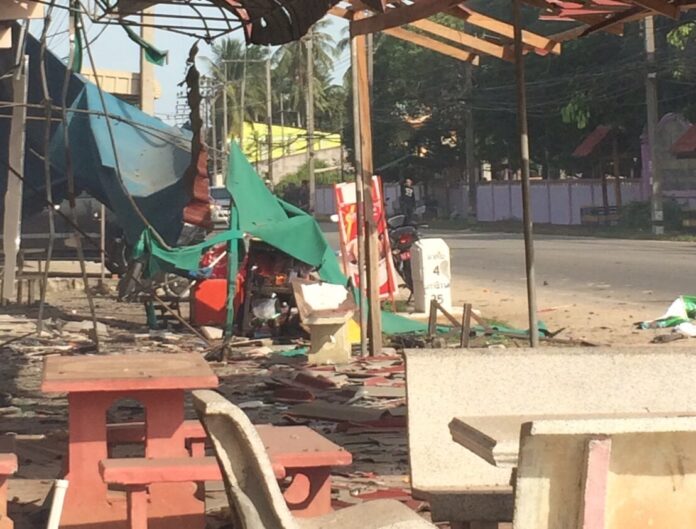 NARATHIWAT — A weaponized motorcycle exploded in front of a school in Narathiwat's Tak Bai district this morning, killing two people including a 4-year-old schoolgirl, police said.
The bombing appeared to mark a recent trend in separatist violence of more indiscriminate targeting of civilians, coming just two weeks after an ambulance was used in the fatal car bombing of a hotel in Pattani province.
BRN Implicated in 'Unprecedented' Ambulance Car Bomb
A police report released to the media said the motorcycle was parked close to where a group of police officers was standing guard in front of Ban Taba School.
The report said a man and his daughter, a 4-year-old kindergartener enrolled at the school, were killed in the attack. Eight people were also injured.
Spokesman Pramote Prom-in of the Internal Security Operation Command condemned the bomb attack as an inhumane act that disregarded civilians, even young children.
"I'd like to ask [everyone] to help monitor and condemn the behavior of the perpetrators as much as possible," Col. Pramote said.
Sunai Phasuk of Human Rights Watch also described the bombing as a "war crime" in a tweet.
More than 6,500 people, many of whom were civilians, have died in the southern border region since secessionist violence broke out there in 2004, according to Deep South Watch.
On Aug. 23 suspected insurgents converted a stolen ambulance into a car bomb and left it to explode in front of a Pattani hotel, killing two people.
A bomb also struck a passenger train in Pattani province on Saturday, killing a railway employee and disrupting southbound trains for hours.
Related stories:
Insurgents Steal School's Milk Delivery Truck, Convert Into Car Bomb