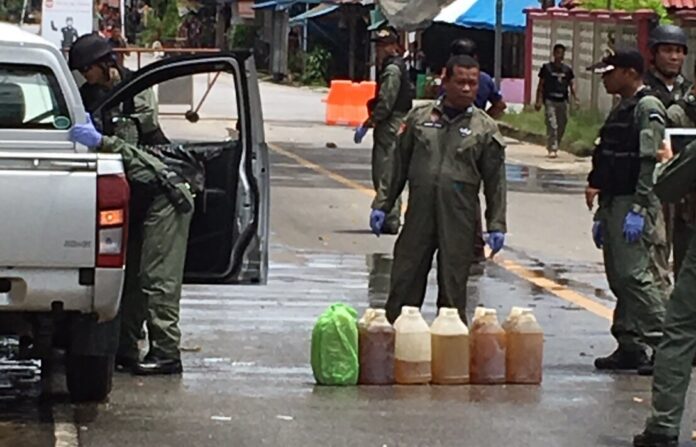 NARATHIWAT — A pick-up truck stolen earlier from a school in Pattani resurfaced today in the neighboring province of Narathiwat where it was used as a car bomb.
Police said an EOD team managed to defuse the explosives before they were detonated next to a police station. The truck had been commandeered Tuesday by a group of armed gunmen as it left the school where it was used to deliver milk for schoolchildren.
"The bomb was packed into a gas canister," Capt. Songwuth Thongsom of Waeng Police Station said Friday. "Inside the truck, there were also some gallons of gasoline."
Songwuth said the truck matched the description of the stolen vehicle, though its license plate was replaced with a forged one.
Police said they are looking for the perpetrators.
Six gunmen intercepted the truck as it was leaving Ban Chamao Sam Ton School on Tuesday afternoon, told its driver to get out and drove it away. Police later issued a warning that the car may be used as a car bomb.
On Aug. 23, a weaponized ambulance exploded in front of a hotel in Pattani, killing two people and wounding dozens. Police blamed the attack on the insurgents fighting for independence in the Muslim-majority region.
Related stories: