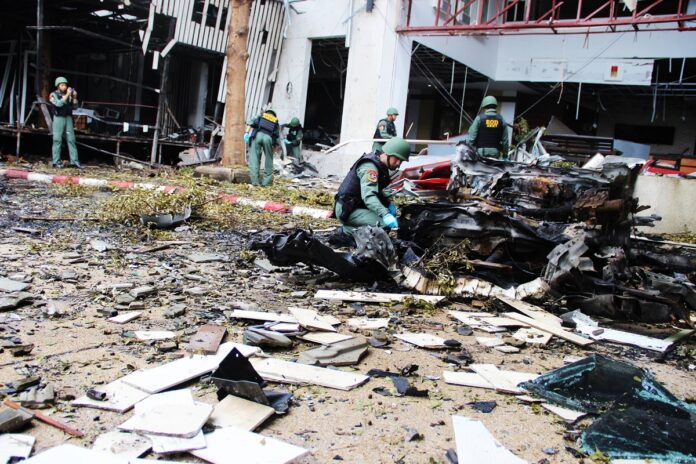 PATTANI — The government on Wednesday condemned a twin car bomb at a hotel in the southern border province of Pattani that left one person dead and at least 30 others injured, including women and children.
The attacks, which included a use of stolen ambulance, came nearly two weeks after the wave of explosions and firebombs across seven provinces that some experts believe were works of the same separatists based in Pattani and its neighboring provinces.
Here's Why Experts Believe BRN Was Behind Attacks
"This action was intended to harm innocent civilians that include children and women, Buddhists and Muslims," Col. Pramote Prom-in, the spokesman of the Internal Security Operation Command, told reporters Wednesday morning. "It's barbaric."
According to police report, the first car bomb went off at the parking lot of Southern Views Hotel in Pattani's suburb at around 10.30pm Tuesday night, though no one was injured. Another car bomb exploded about half an hour later in front of the hotel, causing a large number of casualties and inflicting severe damages to nearby buildings.
One woman from Ubon Ratchathani province was killed in the bombing, while at least 30 other people were wounded, police said.
Col. Pramote said the vehicle used in the latter attack was an ambulance reported stolen from another hospital in Pattani province.
"This action is something that all sides find unacceptable, because an ambulance is a symbol of humanitarian aid, yet it was used by perpetrators of violence as an instrument of their wrongdoing," the spokesman said.
Like other numerous other bombing and shooting attacks that plague the Deep South, no group has claimed responsibility for last night's car bombs so far.
At least 6,000 people have died in the Muslim-majority region since the secessionist violence broke out there in January 2004.
Related stories:
Separatist Violence Surged as Thailand Voted
Referendum Graffiti Puzzles Deep South Observers