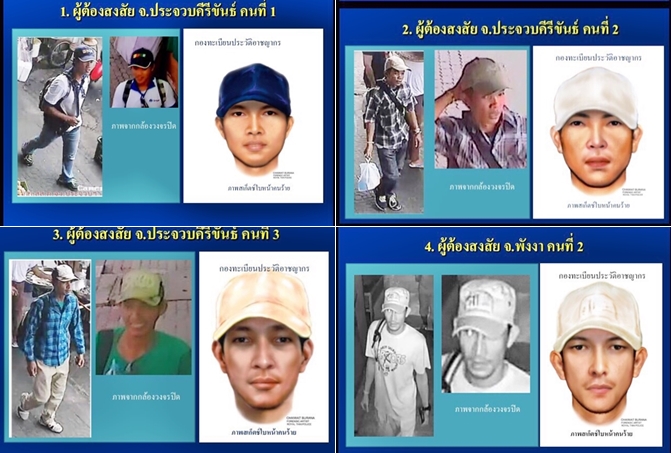 BANGKOK — Police on Wednesday released sketched drawings of four men responsible for the bomb attacks in the resort town of Hua Hin and southern province of Phang Nga during the Mother's Day vacation two weeks ago.
A top police investigator is also said to be seeking arrest warrants for three of the suspected bombers seen in the sketches, who staged the attacks in coordination with other explosions and arsons across the southern region on Aug. 11-12. Four people died in the violence.
According to police, officers drafted the sketches based on description from witnesses who saw the three men in Hua Hin on Aug. 10. The sketches matched security footage of the three suspects, police said.
Four explosions struck Hua Hin in the attacks: two in a nightclub area on Aug. 11 and other two in front of the city clock tower on Aug. 12.
The fourth image belonged to a man who allegedly carried out the bomb attack at Bang Niang Market in Phang Nga province on Aug. 12.
All four images were released to the media by police on Wednesday.
Read : These Are People Accused of Carrying Out Southern Bombings
The head of police investigation team, Srivara Ransibrahmanakul, was reportedly traveling on Wednesday morning to a military court in Phetchaburi province, whose jurisdiction covers Hua Hin, to request arrest warrants for the three Hua Hin bombers.
Nearly two weeks after the attacks, police still have only one arrest warrant issued for one of the alleged perpetrators, a Narathiwat resident called Ahama Lengha.
Their investigation is marked by contradictory and confusing remarks made by different high-ranking officers, and by their insistence that the motives behind the attacks were still unclear, despite some evidence and analyses pointing to the separatist movement in the Deep South.
The latest example of such disarray in police's communication with the public is a statement by a spokesman who said he couldn't endorse the sketches of the four suspects as official police work, even though they were released by the police themselves.
"I cannot confirm that," deputy spokesman Piyaphan Pingmuang answered when asked by reporters whether the sketches are genuine.