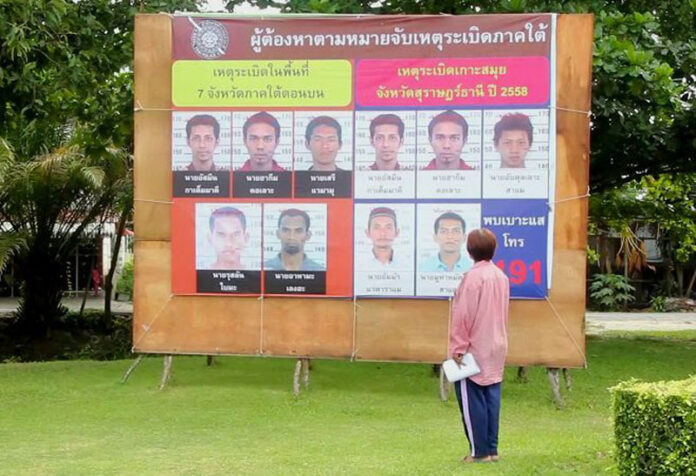 NAKHON SI THAMMARAT — Police wrapped up their case Thursday against 10 suspects in last year's bomb and arson attacks in the southern provinces, though most remain at large.
Nearly seven months after a series of explosions hit the southern region during the Mother's Day holidays, police submitted their case to military prosecutors. Only two suspects have been captured and police are still hunting eight others, the head investigator said. All hail from the southernmost border provinces.
Held since September without charge under the junta's special authority, were two men from Pattani province: Muhammad Muhi, 21, and Abdulkadir Saleah, 33.
In November, Muhammad reportedly told a military court in Nakhon Si Thammarat he was involved in planting a series of bombs in Phuket province over several days in August.
Heading the police effort is Srivara Ransibrahmanakul, who said police decided to move forward with cases and recommend prosecution of all 10 suspects linked to 16 incidents.
The spree of violence began Aug. 10 and continued through Aug. 12. Bombs hit seven provinces, killing four people and injuring a dozen others. All suspects identified by police were from the southern border provinces and some had known histories with the separatist movement there.
Though separatist group BRN claimed responsibility for the attack a month later, police have consistently denied the attacks had any connection to the insurgency movement, an escalation of which coincided with last year's attacks.
On Thursday, police asked the military court for three more arrest warrants based on information they said Muhammad provided.