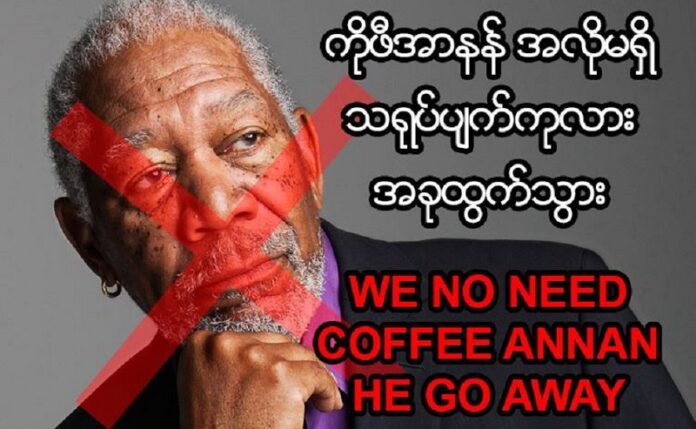 YANGON — A Buddhist nationalist group in Myanmar says a Facebook post in which it appeared to criticize former U.N. Secretary-General Kofi Annan was fake.
Myanmar's government announced last week that Annan will lead an advisory panel aimed at finding "lasting solutions" to the conflict in Rakhine state, where human rights groups have documented widespread abuses against minority Rohingya Muslims.
Rakhine Buddhist nationalists have denounced the commission. Annan was criticized Monday on a page that appeared to be from Ma Ba Tha, a national group led by Buddhist monks that has been accused of helping to incite violence in the region that left hundreds of Muslims dead in 2012.
On Thursday, however, Wirathu, a monk who is among Ma Ba Tha's most prominent leaders, said on his Facebook page that the post was from a fake account. Many people in Myanmar social media pose as Buddhist nationalists and sometimes mock them. The owner of the account could not be reached.
The post called Annan "a funny-looking and disrespectful person cannot talk about our own issues in the country." It also called Annan, who is from Ghana, a "kalar," a slur used in Myanmar against Muslims and Indians.
The post, however, included a photo not of Annan but of Morgan Freeman, the Oscar-winning actor. Freeman was marked with a red "X" next to the words "We no need Coffee Annan he go away."
Freeman has been confused previously elsewhere not only with Annan but also with late South African President Nelson Mandela.