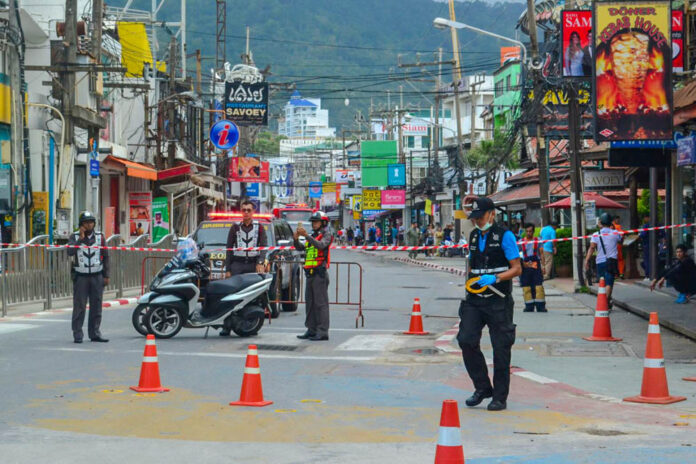 BANGKOK — Southern insurgents were behind the recent attacks that killed four people and will escalate their campaign of terror if the military government continues to ignore their existence, an expert on national security and terrorism said.
The warning was sounded at a panel discussion held Wednesday night in which speakers identified Deep South separatists as the most likely perpetrators of the attacks in seven provinces last week, a conclusion Thai authorities steadfastly deny.
Anthony Davis, a security consultant with IHS Jane's, said the attacks were staged by the BRN, the most military-capable of several groups fighting for independence in the Deep South, in a bid to force the junta to recognize its demands and start a meaningful peace dialogue.  
"What we saw was a watershed moment. The BRN has crossed the Rubicon, which is dangerous," Davis said at the Foreign Correspondent's Club of Thailand. "They are demanding Thai government respond to what happened, but today the government preferred not to respond at all. They fudge over it … instead of biting the bullet."
Since the spate of explosions and firebombs on Thursday and Friday, which marked the Mother's Day celebration, the authorities have been adamant that the attacks were not linked to the secessionist violence in the southern provinces of Pattani, Narathiwat and Yala, where militants have battled with the security forces for over 12 years.
Davis feared that the BRN, upset by the pretense that the issue was anything but a fight for autonomy of the southern border provinces, will only escalate their attacks on targets associated with foreign tourists.
"If there is no progress in the next month, they may do it again," Davis said. "Maybe it won't be on a large scale, maybe just a couple of bombs at some resorts. It's almost inevitable, almost impossible to prevent that kind of thing."
Anusorn Unno of Thammasat University's Sociology and Anthropology program declined to speculate on who was behind the attacks, only ruling out the Redshirt movement.
But Rungrawee Chalermsripinyorat, a prolific author on the insurgency, also blamed the BRN for the attacks, citing their military capability and history of targeting shopping districts and nightlife areas.
Like Davis, she said the BRN wants Bangkok to recognize the group as representing the independence movement in the Deep South, and start formal negotiations with it.
"This should be a wake-up call for peace dialogues," Rungrawee said.