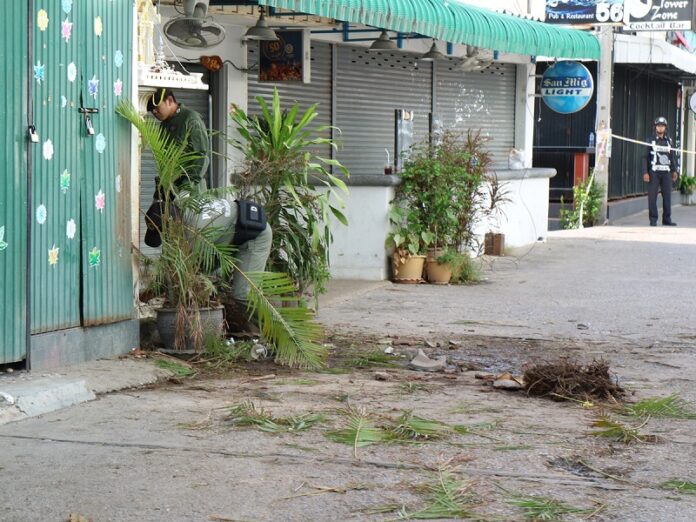 BANGKOK — Police believe more than 20 people were involved in the wave of explosions and firebombs that struck seven provinces during Mother's Day holidays, but only one arrest warrant has been issued so far.
Despite his declaration that police have detailed information on how the perpetrators planned and carried out the attacks that left four people dead, Royal Thai Police chief Chakthip Chaijinda told reporters he has yet to determine their motives.
"I now know all about the process, method, and the meeting points of all perpetrators," said police Gen. Chakthip Chaijinda Monday. "We believe those who did the incidents in seven provinces concealed their faces and disguised themselves by dressing like tourists."
In the aftermath of the bombing spree on Aug. 11-12, authorities quickly ruled out any link to separatist violence in the Deep South.
But Chakthip said today that police have not eliminated any possible motives in their investigation, which include discontent over the charter referendum, the southern insurgency and even unknown provocateurs hiring the bombers to cause unrest.
Chakthip did not disclose further information, saying it would affect the case.
Read: Here's Why Experts Believe BRN Was Behind Attacks
'Newcomers'
Chakthip said he traveled to the southern province of Pattani on Sunday to personally question relatives of the people believed to be the bombers but did not elaborate.
Only one arrest warrant has been issued in connection with the Mother's Day attacks for a Narathiwat resident called Ahama Lengha. Police said they couldn't confirm whether he has already fled the country.
According to Chakthip, most of the perpetrators were "newcomers," people who had no previous criminal history, which makes it difficult for police to track them down.
Asked whether they, like Ahama, all hail from the Muslim-majority Deep South, Chakthip replied, "Most of them are from that zone."
Another warrant expected to be issued Tuesday is for Sakarin Karuehat, the oil rig worker taken into military custody under the junta's special authority but later released on Thursday.
Sakarin, a 32-year-old native of Chiang Mai, is accused of firebombing a Tesco Lotus supermarket in Nakhon Si Thammarat in coordination with bomb attacks in other southern provinces on Aug. 12.
Deputy police commander Srivara Ransibrahmanakul, who heads the investigation into the bombings, will seek the arrest warrant for Sakarin from a military tribunal in Nakhon Sri Thammarat tomorrow, police said.
Meanwhile, deputy Prime Minister Wisanu Krue-Ngam said on Monday that families of the four deceased victims will be given 1.1 million baht in compensation each from the government.
The government will also cover medical bills for the 37 people wounded in the attacks, including 11 foreigners, and the victims will receive additional compensation for their injuries, Wisanu said.