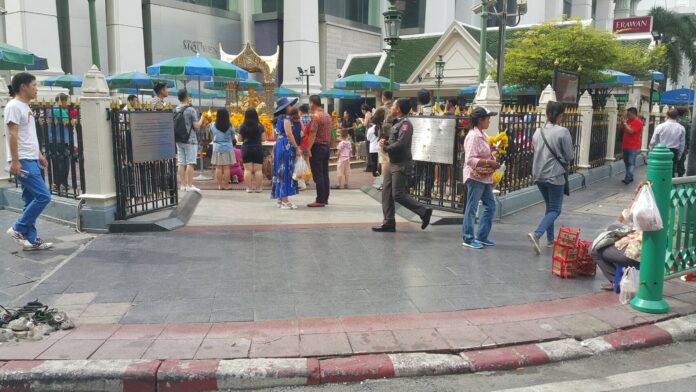 BANGKOK — Tourists were gathered as usual at the Erawan Shrine on Saturday morning after a car drove into the sacred venue Friday night, injuring six people.
The injured tourists – two Singaporeans and four Indonesians – were taken to nearby hospitals. Two of the Indonesians remained hospitalized with unspecified injuries.
The incident has been ruled an accident.
"It was an incident beyond the driver's control," said Lumpini station police commander Pornchai Chalodech, saying the 55-year-old female driver lost control of her car. No charges were pressed against Kanuengnit Taecholarn, who is recovering from an operation last night.
Despite initial reports that Kanuengnit had suffered an epileptic seizure, a family member posted online that it was a stroke that caused her to lose control and drive directly into the shrine.
At about 8:15pm on Friday, a Toyota Corona drove into the shrine located in the commercial heart of the capital. Kanuengnit was found unconscious with her daughter who got out of the car and asked for help.
Last August the Erawan Shrine was the site of a terrorist bomb attack which killed 20 people, mostly tourists. Two men originally from a restive, Muslim-majority Chinese province are being tried in connection with the bombing.