Update Dec. 11: SoulBar moves from old town area Charoen Krung to Silom's Whiteline. It reopens Dec. 19.
BANGKOK — A Charoen Krung joint with a reputation for great live music nights went dark this past weekend but says it will be back soon just down the road with a bigger party space and pioneering "moo ping bar."
Update: Lost Souls Rejoice: SoulBar Reopens Next Week in Silom 
Last week wasn't only the celebration of SoulBar's fourth anniversary – but also a farewell to the cozy space it was crammed into.
Romain Dupuy, one of the owners, said Thursday that SoulBar will reopen 250 meters down Charoen Krung in a century-old double shophouse near the FooJohn Building, where he and friends run a restaurant-bar-lounge.
Not only will it have a bigger space with two floors, Dupuy said SoulBar 2.0 will have a cocktail room, tap room and music room. The latter will of course offer live, blues and jazz music but will get "more serious" with more international bands taking the stage.
"Not only soul music, but we're also having something a little bit more diverse," Dupuy said.
Bar-goers with a yen for dancing will be able to fulfill their appetites by moving upstairs to a party dancefloor which will offer a wider range of music from electro funk and afrobeat to hip-hop.
"We'll be probably the first club in Chinatown," Dupuy said.
It won't just be crispy fried banana to go with a few selection of beers. The new space will serve a selection of draught beers and cocktails, plus moo ping (grilled pork) skewers.
The SoulBar is expected to reopen at the new venue mid September later this year.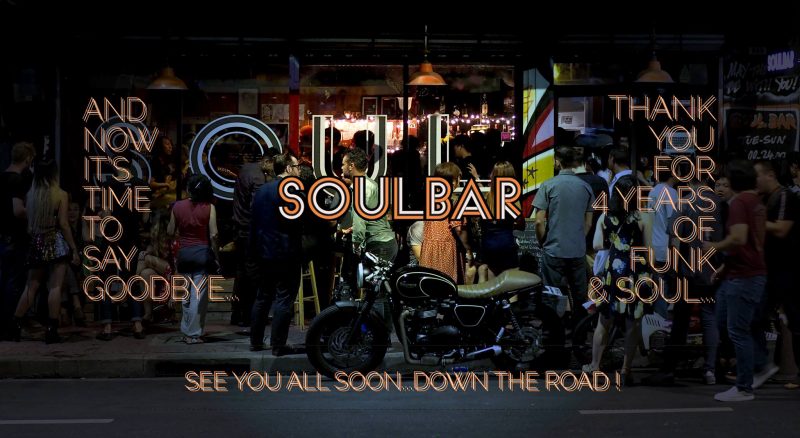 Related stories: