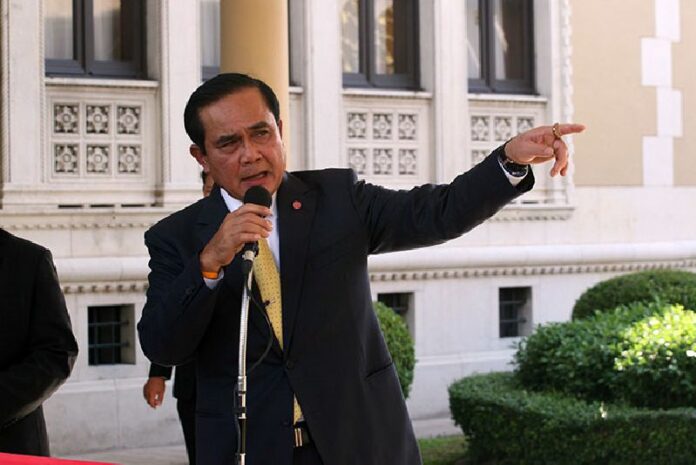 BANGKOK — When the military government invoked a special power to strip former Prime Minister Thaksin Shinawatra of his police rank recently, it said it was done to ease His Majesty the King's "burden."
But it has ignited a debate touching on the sensitive issue of whether the government has overstepped the power of King Bhumibol, as alleged in a complaint filed Monday, for circumventing the royal approval required by such government orders under Thai law.
An on-and-off campaign over the years to dismiss Thaksin's status on the basis of a 2008 corruption conviction found new vigor after the military seized power in 2014 to dismantle the power structures and influence remaining in place long after the man had left Thailand.
Then-PM Thaksin Shinawatra greets former Malaysian Prime Minister Mahathir Mohamad in Bangkok in November 2005.
Thaksin fled Thailand shortly before the court verdict and has maintained the corruption conviction was politically motivated.
Prime Minister Gen. Prayuth Chan-ocha on Saturday revoked Thaksin's police lieutenant colonel rank using Section 44 of the interim constitution, which provides legal cover for him to unilaterally take any action he deems necessary.
That came after months of dithering from police brass, who under pressure had empowered a committee to do the same. After deliberating on the matter, members of the committee said in June they didn't think it could be done legally. But the Ministry of Justice and other agencies gave them a green light, and on Thursday the Royal Thai Police issued an order to remove Thaksin's rank.
Thus, Prayuth's decision Saturday to invoke Article 44 came as a surprise, as two days earlier he had signed the long-expected police order. That order was on its way to the palace for approval by King Bhumibol, who as the Head of State of Thailand, is required by the constitution to give his ceremonial signature to most government orders.
Prayuth said the next day he invoked Section 44 rather than wait for King Bhumibol's signature because he did not want to burden the monarch with the procedure.
"It's a way to ease His Majesty's burden," Prayuth said. The 87-year-old monarch is currently residing at Siriraj Hospital for treatment of several illnesses.
A day later, on Monday, a lawyer filed a criminal charge against the junta, accusing it of lese majeste (insulting the monarchy) for issuing the order without waiting for the king's formal signature.
"According to Section 28 of the Royal Thai Police Act, it clearly states that stripping rank needs to be announced with the king's signature. But invoking Section 44 has no power to do so," the lawyer, Thanadet Puangpoon, said.
Thanadet told reporters he is an independent lawyer who has no connection to Thaksin, but he has represented causes aligned with the Redshirt movement built by Thaksin, such as a Redshirts-operated TV station which successfully sued over their right to broadcast in July.
Thanadet argued that Prayuth had exercised a power reserved only for His Majesty.
"As a lawyer and a citizen, I cannot accept this. … The authorities must investigate this, whether it amounted to violating the Royal Power," he said. "I think this is an extremely inappropriate action. I am a citizen who loves His Majesty the King. I cannot accept this."
Deputy Prime Minister Visanu Krue-ngam dismissed Thanadet's complaint yesterday, saying that any action Prayuth takes under Section 44 is final and legally binding and "has nothing to do with the Royal Power."
Visanu admitted the "normal path" to rank-stripping is to submit an act to parliament the King can later approve with his Royal Signature. "This has nothing to do with the Royal Power," Visanu said.
"But there was certain necessity, so we had to make a left turn. Our intelligence unit fears that it may disturb His Royal Authority. So we used another way: Let the [junta] chairman take the responsibility. Once this path is taken, it's over."
King Bhumibol has been on the throne for more than 60 years and is widely revered.
Somsak Jeamteerasakul, a former Thammasat history professor and prominent critic of the Thai monarchy, wrote that he believes instead of waiting for royal approval, the junta balked at the last minute to avoid any perception of the rank-stripping as a contest of power between Thaksin and the King.
Somsak wrote that in Western constitutional monarchies, the signature of a royal figurehead is seen as nothing more than a ceremonial gesture, whereas in Thailand the King's signatures are perceived as royal endorsements.
"Because of this circumstance, when the issue of Thaksin's rank-stripping came up, it became a double-edged sword," Somsak, who is living in exile in France to avoid lese majeste charges, wrote on Facebook. "As in, when it reaches the moment the King signs it, they cannot simply claim that 'the king had nothing to do with it.'"
To reach us about this article or another matter, please contact us by e-mail at: [email protected].