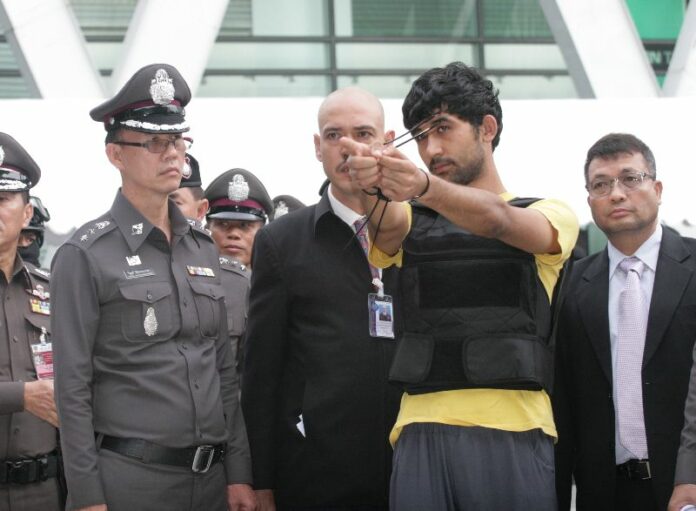 BANGKOK — The alleged mastermind behind the bomb attack that killed 20 people in Bangkok last month has fled to Bangladesh, a police official said.
Police Gen. Chakthip Chaichinda, deputy chief of the Royal Thai Police, said yesterday they will ask Bangladeshi authorities to help track down the man, called Abudusatar Abudureh, aka "Izaan," who bombing suspect Yusufu Mieraili has told police gave orders to those who carried out the attack and left Thailand one day before the bombing.
"Izaan is the leader of this network. We believe he's the highest figure in the bombing of the shrine," Chakthip said. "We will have Interpol coordinate with Bangladesh, because we have received reports that Izaan indeed fled there."
---
Bangkok Shrine Bombing: Those Who Died
---
Information about Izaan was reportedly given to police by Mieraili, who police now say has admitted to handing over the backpack bomb to a man who then traveled to place it in Erawan Shrine on 17 Aug.
That so-called "yellow shirt man" seen in widely disseminated CCTV footage taken before and after the blast has not been apprehended, Chaktip said, but investigators believe they will be able to track him down with the information at hand.
Police chief Gen. Somyot Pumpanmuang said today that police believe Izaan is in hiding in Bangladesh, but declined to make any conclusions about what his role was in the attack.
Media reports have indicated Izaan is actually Abudusatar Abudureh, and images purporting to show him in immigration photos have been circulating online.
Police Lt. Gen. Prawuth Thawornsiri yesterday would not confirm the authenticity of either.
"But we have sent information about him to the Interpol, so that they can help us investigate," Prawuth said. "Nonetheless, right now there is no adequate evidence to apply for an arrest warrant of Izaan from the court."
Three people have been arrested in connection to the deadly bombing so far: a foreign man arrested at an apartment where large cache of bomb-making materials were reportedly found; a man with Chinese passport that named him as Yusufu Mieraili; and a Thai man from the southern province of Narathiwat called Gamarudeng Saho.
Mieraili bribed his way across the border into Thailand with $600 USD bribes to immigration police, Somyot said today. On 1 Sept., six senior Immigration Police officers in Sa Kaeo province were transferred to inactive posts in Bangkok for permitting "illegal foreign laborers" to enter Thailand at Aranyaprathet's a busy land border.
The first two suspects are currently remanded at a prison in an eastern Bangkok suburb, while the Thai national is still being held at an army camp for interrogation. Under a special order issued by the ruling military junta, which seized power in 2014, soldiers can detain individuals for up to seven days without a court warrant.
Prawuth said yesterday that Mieraili's Chinese passport "appears to be genuine," while the Turkish passport held by the other foreign man, Adem Karadag is "definitely fake." Karadag also goes by the name Mohammed Bilaturk.
Eleven arrest warrants have been issued so far by the investigation; yesterday police said they were seeking two more but did not provide further information.
Update: This story was updated with police statements regarding the whereabouts of "Izaan."
Related stories:
Authorities Weigh Military Trial for Bombing Suspect
Bangkok Bombing Suspect Confesses, Police Say
First Suspect Charged in Erawan Shrine Bombing
Mounting Evidence Links Bombing to Turks, Uighurs
Warrants Out for Thai Woman, Foreign Man
Police Search for More Suspects After Arrest
Floundering Bomb Investigation Deepens Doubts About Competency
No Longer Whole, a Family Buries its Dead and Waits for Answers
Seen Often on Sathorn 10, Suspect Thought to Use Fake Turkish Passport
Leaked Police Report Tracks Lead Suspect Before, After Bombing
Bangkok Shrine Bombing: Those Who Died
Despite Lack of Evidence, Thai Media Points Blame at Uighurs
Tourists Narrowly Escape Second Bangkok Bombing in 24 Hours
Bangkok Shrine Bombing: Police Hunt Backpack Man
Tourists Among 19 Killed by Bomb at Bangkok's Erawan Shrine
To reach us about this article or another matter, please contact us by e-mail at: [email protected].