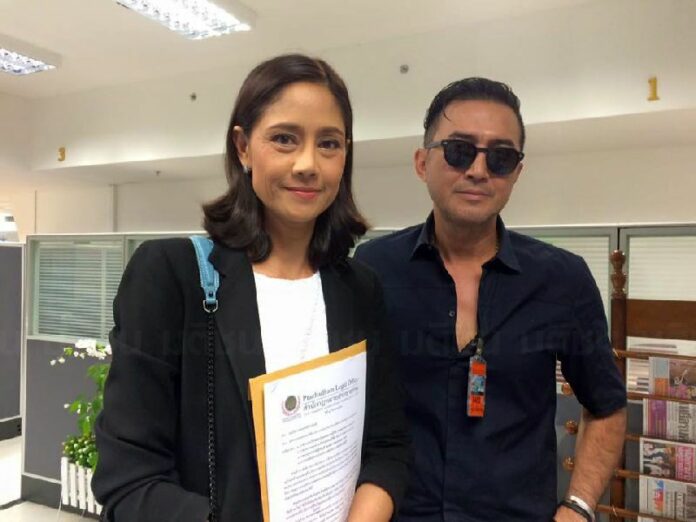 BANGKOK — An actress and avid supporter of the Yellowshirt movement filed a criminal complaint today against a Redshirt supporter, alleging he fabricated inflammatory quotes disparaging "low class" Redshirts in her name.
Sinjai Plengpanich filed the complaint at the Technology Crime Division today against a Facebook user called Tanawit Kalanthopkan, accusing him of posting statements falsely attributed to her.
"I decided to press charges because that message has damaged my reputation, and I want to explain the truth," Sinjai said.
According to screenshots Sinjai provided to police as evidence, Tanawit posted a photo of her and added a fake quote to it.
"The movie that I make is for educated people with class," it said. "It's not for low class people, especially northeasterners and the Redshirts. From a celebrity who supports PCAD and NCPO, Sinjai."
Sinjai filed a criminal complaint today over this quote falsely attributer to her on Facebook
PCAD is the acronym of the People's Committee for Absolute Democracy With the King As Head of State, the latest incarnation of the Yellowshirt movement that organized anti-government protests from November 2013 to May 2014, while NCPO refers to the National Council for Peace and Order, the military junta that seized power from the Redshirt-backed government in May 2014.
Sinjai, an actress in films and television dramas best known for her lead role in the 1984 soap opera "Nuan Chawee," told reporters she said no such thing.
According to screenshots shared online, the message was posted 24 Aug.
It had been shared more than 800 times before it was deleted, Sinjai said. Tanawit's Facebook account appears to have been deactivated, and screenshots of his profile suggests that he's a supporter of the Redshirt movement.
"I insist that I don't have thoughts like what the text says. Finally, I would like to tell everyone to check and make sure what you share is genuine before you share it. Everyone can think differently, but don't build hatred like this," Sinjai said.
Publishing false information is outlawed under Thailand's Computer Crime Act.
The message surfaced around the time Sinjai announced that she's making a lakorn series based on the life of Colonel Romklao Thuwatham, an army officer who was killed in action during Redshirt street protests in April 2010. Sinjai told the press she would star in the series as Romklao's wife.
Col. Romklao, who was the field commander of the operation, was killed by a grenade explosion. Four other soldiers and 20 civilians also died in the crackdown, which was ordered by then-Prime Minister Abhisit Vejjajiva to disperse Redshirt demonstrators who were camping in downtown Bangkok to call for a fresh election.
Clashes between Redshirt demonstrators and security forces on the night of April 10, 2010
The military later mounted another assault on 19 May, 2010, and succeeded in forcing Redshirt leaders to call off the protest. More than 90 people were killed in the weeks of violence, including demonstrators, security officers, rescue workers and two foreign journalists.
Narratives of the 2010 violence remain a deeply divisive issue in Thai society. Redshirts describe the crackdown as a massacre of unarmed protesters, while Yellowshirts believe the protesters were providing cover to armed terrorists who fought skirmishes with security officers.
But Peemkamol Prasertwong, director of the upcoming series, has said the plot would not feature any political dimension.
"We will change the names of the characters, because we don't want the series to be connected to any politics," Peemkamol said. "We will only pick up issues about their admirable love. But we will maintain the characters' personalities, especially Romklao's loyalty to the nation and Their Majesties the King and Queen."
Peemkamol added that the plot will revolve around a "miraculous" event in which Romklao and his wife are reunited in another dimension with help from angels.
The series will be aired on PPTV, a digital TV channel, Peemkamol said.
Related stories:
Official Refutes False Quote About Live Rounds In 2010 Crackdown
To reach us about this article or another matter, please contact us by e-mail at: [email protected].