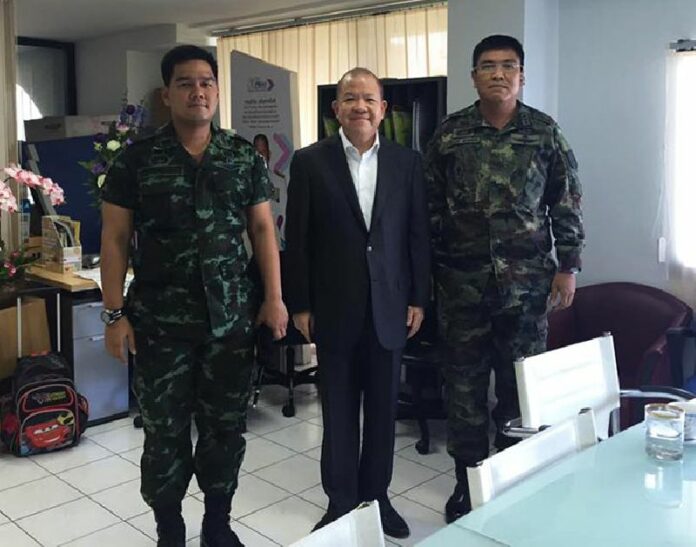 BANGKOK — The ruling military junta said today former minister Pichai Naripatapan's latest detention in an army camp – said to be his seventh since the coup – will only end when it deems him to be "cooperative."
Soldiers showed up to take Pichai away from his home in Bangkok's Pratunam area yesterday morning and placed him in indefinite military custody at an army camp for "attitude adjustment" due to his criticism of the junta's economic policies, junta spokesman Winthai Suvaree confirmed today.
"It was necessary to invite Pichai to exchange opinions and reach some understanding with us, in accordance with our usual measure of maintaining peace and order," Winthai said today, using junta euphemisms for involuntary detention of dissenters. Recenty, Pichai started to express his opinion in violation of the conditions that we asked him to cooperate with."
Answering a reporter who asked when Pichai – who served as energy minister under the previous government – would be released from custody, Winthai said, "Officials will attempt to create understanding with him. How long it takes depends on his cooperation, and on the judgement of the responsible officials."
Less than a month had passed since Pichai was taken into military custody 11 Aug. Two days ago on Tuesday, Pichai wrote online that the recent delay to returning Thailand to civilian rule would damage the economy and open the kingdom up to sanctions from democratic nations. His comments were widely reported in the media.
"It's like he has an agenda to discredit the government with his personal attitude," Winthai said. "He presents facts in a way that slanders the government with his incomplete information and his attempt to mislead society into losing confidence in the state."
Former Pheu Thai MP Karun Hosakul is also reported today to have been detained by the military as well, though officials have yet to provide confirmation.
Dissent Unwelcome
Shortly after seizing power from the Pheu Thai-backed government in May 2014, the junta summoned key Pheu Thai politicians and held them up to a week in army camps for "attitude adjustment." They were later released on the condition that they refrain from criticizing the junta and seek its permission to travel abroad.
The junta, known formally as the National Council for Peace and Order, also outlawed political activities, protests and any public challenge to its rule.
While most Pheu Thai politicians complied with the ban, some have repeatedly defied the junta's order, such as Pichai, who has often criticized the military government's economic policies in interviews with the media.
Army chief Udomdet Sitabutr confirmed Pichai is in military custody because "his opinions do not match and comply with the way that we have agreed upon."
Like Winthai, Gen. Udomdet declined to commit to releasing Pichai at any specific time.
However, according to the special order issued by the junta in April, soldiers can detain individuals without charge for a maximum of seven days.
Chaturon Chaisaeng, another former Pheu Thai minister who has been voicing criticism of the junta, posted on his Facebook today that the military government would end up ruining the country if it refuses to hear dissenting views.
"Restricting Mr. Pichai's freedom is a signal that the government does not wish to hear different opinions," wrote Chaturon, who is facing a military trial for turning down a junta summon last May. "There will only be negative consequences if the country administrators only choose to listen to opinions that match their own, and those close to the government don't dare to challenge that. In the end, they will lead each other to ruin."
On Friday, the Ministry of Foreign Affairs revoked Chaturon's passport, claiming it was done under a regulation banning people with outstanding criminal cases from traveling abroad upon request from police.
But junta chairman Prayuth Chan-ocha said Chaturon lost his passport for unrelenting criticism of his military regime.
Related stories:
Critic's Passport Revoked as Junta Reaffirms Ban on Criticism
Detained Academic Describes Military Interrogation
To reach us about this article or another matter, please contact us by e-mail at: [email protected].