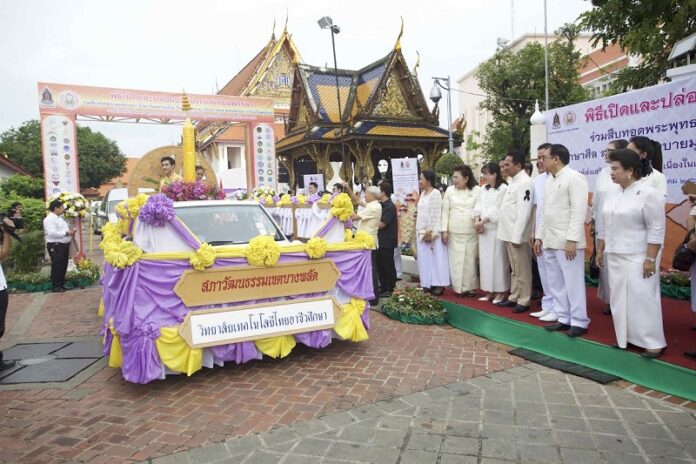 BANGKOK — Thailand observed Saturday the beginning of Buddhist Lent, with alms giving and parades taking place across the kingdom.
In Surin province, monks rode on the back of elephants along with mahouts as Buddhists laymen offered alms early in the morning in a colorful and rare pageantry. Bordering provinces such as Tak saw residents and migrant workers from Myanmar making merits.
Thongchai Muengcharoenporn, former head of Surin Provincial Administrative Organization was with his family to offer alms at 6:30am along with thousands others. He said he was proud of this annual Buddhist holiday and that it drew in a lot of tourists.
In Ayutthaya, Thailand's former capital city, Minister of Culture Veera Rojpojanarat presided over a procession in which giant and elaborately carved candles were paraded. Candles were traditionally offered to monks so they could light them to keep monasteries bright during the rain retreat in the days before electricity.
Asahna Bucha falls on Saturday and the start of Buddhist Lent, or rain retreat on Sunday. The retreat lasts three months. The rain retreat began during Buddha's lifetime when monks would refrain from coming out to seek alms in order to avoid stepping on planted rice fields and inadvertently destroying the crops. It has since become a rule that monks cannot leave their temples unless they have to tend to emergencies, such as caring for their ailing parents.
Migrant workers from Myanmar visited Wat Roi Prabhat, a local temple, on Sunday morning in order to make merit Saturday morning in Tak province, along the Thai-Myanmar border.
Devout Buddhists traditionally observe the five precepts of Buddhism during the rain retreat, which include abstention from killing, lying and consuming alcohol.