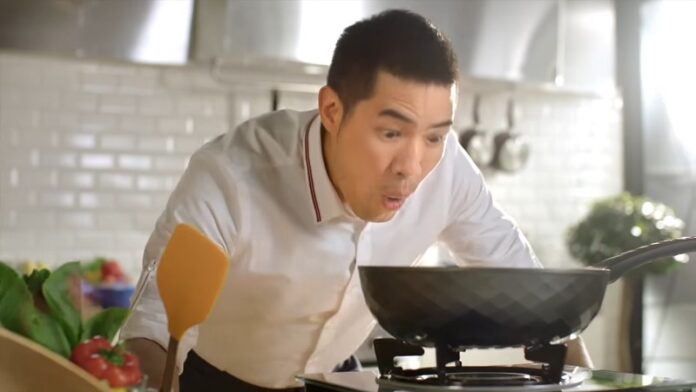 BANGKOK — This magic frying pan with the celebrity endorsement retails for 18,000 baht, but – act now! – and get two for only 3,300 baht.
More than the eye-rolling offers for Korea King cooking pans have been the claims made in breathless infomercials the past couple years. Presented as the ultimate in durable pans, presenters – including a famous television host – claimed it is coated with eight layers including heretofore unknown substances such as "gold marble," "silver marble" and "copper marble."
So when chemistry professor Weerachai Phutdhawong decided to test the Korea King Diamond Series pan in a lab Thursday, it provided a rare scientific assessment of those far-fetched claims – and the public couldn't wait to find out the results.
They weren't good. The Kasetsart University lecturer posted a video Thursday showing the pan's allegedly impervious surface easily cut by a hand saw.
"Oh it's so very thin," a voice is heard saying as the pan is sawed at. "It's gone just after a bit of sawing."
The video, which has since been watched more than 240,000 times, invited harsh criticism that Korea King overstated the quality of its product.
Weerachai revealed Friday he had been asked by the Consumer Protection Board to inspect the pans after questions were raised by the public in recent days.
He asked people to wait for the complete laboratory results before judging, saying that he has been satisfied with his own Korea King pan.
In 2016, 1.6 billion baht – the most for any product last year – was spent advertising the Korea King pan, also known as the "Woody pan" for its paid endorsement by host Vuthithorn "Woody" Milintachinda. Woody often features segments about the pan on his program.
Apart from promoting its preternatural coating, infomercials also claim the pan is durable, easy to heat and usable without oil.
Korea King came under fire last week after a photo circulated online showing the same pans sold in Singapore for the equivalent of only 600 baht.
The company issued a statement on Saturday, saying it was a different model than that sold in Thailand.
But the outrage only built, as consumers posed more questions about its quality and low price.
The Consumer Protection Board said it summoned the company Wednesday to answer some of those questions. The office said it would look into Korea King's promotions, advertised prices and product claims to see whether it misled consumers.