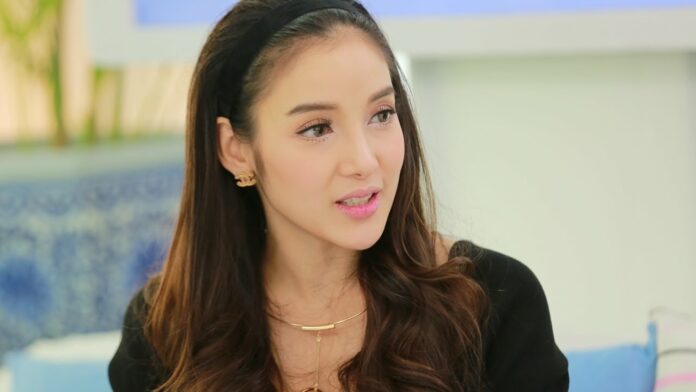 BANGKOK — As Friday came to an end, a soap opera star implicated in a transnational narcotics operation had yet to meet with police as requested, prompting authorities to grant a new deadline for her next week.
Investigators said they need to question Napapa "Patt" Tantrakul over 1.9 million baht in cash deposited in her name they believe belonged to Laotian drug lord Xaysana Keopimpha, who was arrested in January. Her lawyer said she could explain the source of the money but needed more time to prepare her defense.
Police spokesman Krissana Pattanacharoen said Napapa now has until Monday to turn herself in, though he would not say for certain whether an arrest warrant would be issued if she refuses again.
"I cannot answer that yet. Investigators have their own procedures for dealing with the situation," Col. Krissana said.
Napapa's boyfriend, Akarakit "Benz" Worarojcharoendet, is also suspected of aiding Xaysana's money-laundering scheme. Both Napapa and Akarakit deny the allegations.
Napapa has not spoken publicly about the investigation in recent weeks, but her lawyer told several news sites the actress needs more time to prepare for the case.
The lawyer also reportedly said Napapa has formally complained of unfair police treatment, though Krissana said he was unaware if the claim had been made.
Such complaints have been used as a stalling tactic in some high-profile cases, with police and prosecutors saying they had to halt all investigation until the complaints are resolved. Red Bull energy drink scion Vorayuth Yoovidhya spent five years without indictment or arrest warrant for a car crash that killed a policeman in 2012 because he complained he was being treated unfairly.
Krissana said police would only take the complaint seriously if it has merit.
"The investigators will exercise judgment on whether the complaints are reasonable," Krissana said. "Or are just a way to buy time."
After Xaysana was arrested at Suvarnabhumi International Airport in January, police investigated numerous domestic links and interrogated a dozen suspects suspected of being connected to the Laotian man, whom police say was the most influential drug kingpin in northeastern Thailand.