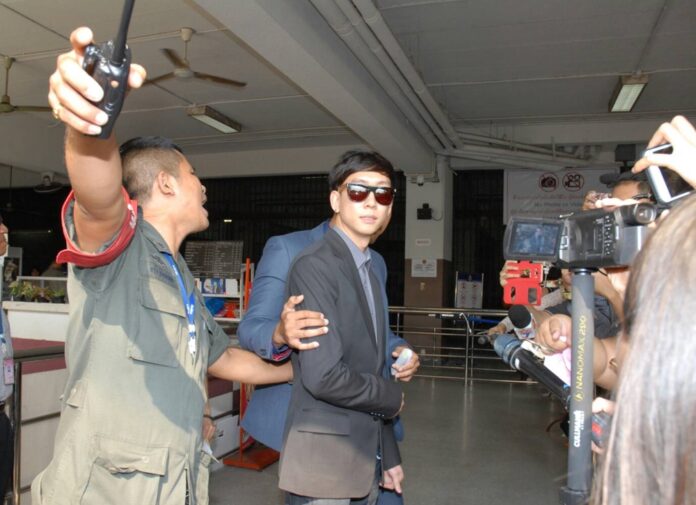 BANGKOK — The husband of a celebrity was formally charged Monday with money laundering for his alleged connection to a transnational drug suspect apprehended in Bangkok two months ago.
Akarakit Worarojcharoendet, or "Benz Racing," is accused of conspiring to launder money with a friend for the narcotics network formerly operated by Laotian drug lord Xaysana Keopimpha. Akarakit did not comment on his case make to reporters as he arrived at the Narcotics Suppression Bureau.
"I'd like to thank all the reporters for coming here to wait for me," Akarakit said. "As for other parts, I will testify in court."
Police charged the 30-year-old moto racer with a conspiracy count of money laundering Monday morning and sent him to court for a custody hearing several hours later. The court granted Akarakit bail in the afternoon on the condition that he cannot leave the country without prior permission. Akarakit posted a bond of 500,000 baht.
Police said Akarakit, whose wife Napapa "Patt" Tantrakul is a famous soap star, helped an associate of Xaysana cover his assets by claiming ownership of a 20 million baht Lamborghini bought with the drug lord's dirty money.
Money laundering carries a maximum punishment of 10 years in prison.
After Xaysana was arrested at a Bangkok airport in January, police raided numerous targets and interrogated a dozen suspects said to have connections to the Laotian man, whom police identified as the most influential drug kingpin in northeastern Thailand.
Pornchai Charoenwong, director of the anti-narcotics bureau, described Akarakit as a "middle-tier suspect" in Xayasana's network. He disputed Akarakit's past remarks claiming he was unaware the Lamborghini was part of Xayasana's drug business.
"The investigators don't believe that," Maj. Gen. Pornchai said. "We have reasons to believe it's a conspiracy to commit money laundering. We have witnesses and evidence."
Xaysana is being held at Bangkok Remand Prison as he awaits trial. Pornchai said police are still preparing a case against him for the prosecutor's office. He did not give a specific date for Xaysana's indictment.
The police major general also said there is no plan to extradite Xaysana.
"He will be tried by Thai courts only," Pornchai said.
Related stories: 
'Benz Racing' Denies Having Connections to Laotian Drug Lord
'Benz Racing' Surrenders to Narcotics Cops