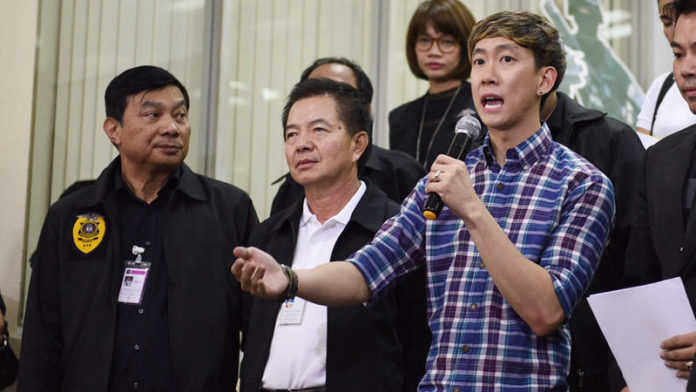 BANGKOK — A drama star's speed-racer husband declared his innocence Friday and denied connections to a Laotian drug kingpin before the media after a six-hour investigation at the Narcotics Suppression Bureau.
Turning himself him in a day after his moto racing shop was raided by police on Thursday, Akarakit Worarojcharoendet, aka "Benz Racing," spent six hours talking to narcotics officers while submitting documents related to his 20-million baht Lamborghini, which police suspected had been bought with Laotian drug lord Xaysana Keopimpha's dirty money.
Read: 'Benz Racing' Surrenders to Narcotics Cops Today
"I'm here to justify myself," said the 29-year-old racer to the press after the investigation, adding that he was also shocked upon first hearing the news and that he wasn't happy with comments on social media which claim that he possessed drug. "You have to know the truth before judging others."
Maj. Gen. Chatree Paisarnsilp, deputy commissioner of the Narcotics Suppression Bureau, later revealed that Akarakit claimed not to know Xaysana. However, citing a mutual passion for big bikes, Akarakit admitted to having borrowed 6 million baht from Natthaphol "Boy" Nakkham – a connection of the drug kingpin – to buy the Lamborghini.
The drama star's husband insisted he didn't know Natthaphol's hidden business.
Police said the car's license plate, which had been switched and did not match the registration sticker, breached the Land Traffic Act.
During the investigation, his wife Napapa "Patt" Tantrakul posted a video of Akarakit kissing her pregnant belly with a caption reading "Your support is always here." The post has been viewed more than a million times and has garnered more than 15,000 reactions and 7,500 shares overnight.
After the investigation, the racer posted a photo of the drama star saying "Missing you both dearly."
Related stories:
Soap Star's Husband Investigated for Laundering Drug Money