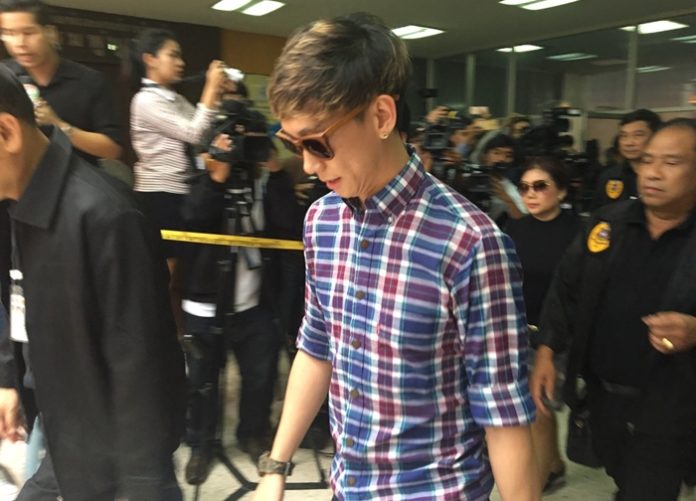 BANGKOK — A celebrity husband who vanished with his Lamborghini hours before police raided his property in search of links to a Laotian drug kingpin turned himself in Friday afternoon to the Narcotics Suppression Bureau.
Amid a crush of media, Akarakit Worarojcharoendet, aka "Benz Racing," turned himself in at about 3:40pm, one day after his moto racing shop was raided by officers on suspicion his 20-million baht car was among hundreds bought with drug trafficking suspect Xaysana Keopimpha's dirty money.
Read: Soap Star's Husband Investigated for Laundering Drug Money
Xaysana was arrested late last month at Suvarnabhumi Airport and officers have been investigating his connections in the kingdom.
Akarakit said he went there to clarify his innocence and answer questions about how he came to possess the 20 million baht Lamborghini.
The car had been confiscated and searched Thursday night. Police said its license plates had been switched, as they did not match the tax registration sticker. Two of Akarakit's big bikes were also impounded by police last night.
Police said they are also investigating other celebrities and people linked to Xaysana.
Related stories:
Soap Star's Husband Investigated for Laundering Drug Money