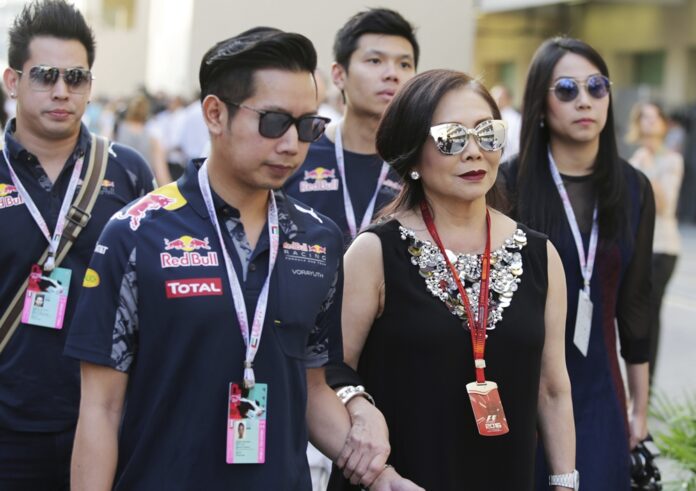 BANGKOK — The wealthy Red Bull scion accused of killing a policeman in a hit-and-run incident nearly five years ago is scheduled to meet with prosecutors again on Thursday, but police said there's little they can do if he doesn't show up, despite the fact that he seems to be living openly in Bangkok and traveling in and out of the country.
Vorayuth "Boss" Yoovidhya never answered summonses from prosecutors since he plowed his Ferrari into a policeman's motorcycle in Bangkok's nightlife area in 2012, killing Sgt. Maj. Wichian Klanprasert. Although he'd widely been assumed to be laying low, possibly outside the kingdom, The Associated Press reported Tuesday that the 32-year-old has been living in Bangkok and enjoying a jet-setting life.
Asked how Vorayuth, a man wanted by the law, could have traveled in and out of the country numerous times without attracting police attention, police spokesman Krissana Pattanacharoen said he needed more information before replying.
Krissana said the matter is now in the hand of the prosecutors, and police cannot take any further action without their consent.
Certainly more actions could be taken against Vorayuth – warrants issued for his arrest or fresh charges filed for his failures to appear – yet those responsible for his prosecution have never adequately explained why they haven't pursued them.
"What happens next depends on the attorney-general," Col. Krissana said when asked if police will hunt down Vorayuth if he fails to appear again on Thursday. "If he doesn't come, we will have to wait for the attorney-general to decide what to do."
Read: Red Bull Heir Enjoys Jet-Set Life 4 Years After Hit-and-Run
No answers were available Tuesday from state prosecutors. Reached for comment, a secretary at the Office of the Attorney-General said a spokesman was discussing the case with his team and would not give any comments to the media.
Do you have money? If yes, then no justice for the society.
Vorayuth has evaded justice since the fatal crash that killed officer Wichian Klanprasert in September 2012. He didn't show up a number of times in 2013 before eventually leaving to Singapore for what his family described as "medical treatment."
Due to those and other delays, two previous misdemeanor charges filed against him – speeding and property damage – have already expired. A charge of not reporting the incident to police will expire next year. The statute of limitations for the most serious charge – fatal reckless driving – won't expire until 2027.
Buying Time
As with similar cases, Vorayuth's has met a cycle of media attention in which the authorities assert in news stories they are pursuing the case doggedly, only to let the case go untouched until the next time something puts it back in the news.
After initial assertions Vorayuth would be prosecuted, the case petered out in 2014 and was effectively dropped for nearly two years. It returned to public and media interest again in March 2016 when wealthy businessman Jenphop Viraporn killed two students, providing yet another example of a dual-track justice system in which the wealthy and well-connected avoid punishment.
In the latest statement to the media in July, prosecutors said Vorayuth's defense lawyers had filed a complaint claiming he was being treated unfairly, citing unspecified grievances.
A lawyer well-versed in criminal cases involving influential figures said the complaint, called an Unfair Treatment Petition, is a common trick to buy time.
Ananchai Chaiyadech said all suspects have the right to file an Unfair Treatment Petition. Once it's filed, the entire investigative process must halt until the attorney-general decides whether the claim has any merit, which usually takes a matter of weeks, Ananchai said.
"But in the case of the Red Bull heir, it's been years," said the lawyer, who's overseeing other high-profile cases, such as the killing of a disabled street vendor by a group of policemen's sons. "It's been too long. They usually take less than a month, then it's over. But he's been dragging out the case."
Ananchai said well-connected defendants often resort to filing the complaint in order to stall the process and avoid trial. He cited an example from his own experience: a case against a group of aviation officials for allegedly switching out police parachute cables with inferior gear which resulted in the deaths of two police cadets. An unfairness claim has kept it from going to trial, he said.
"You may notice that justice in this country isn't really about fairness. It's about whether you have the money," Ananchai said. "Do you have money? If yes, then no justice for the society."
Vorayuth's impunity and reluctance on the part of law enforcement to bring him to justice has been met with outrage as well as a cynical lack of surprise by many.
In a country where human relationships regularly trump the rule of law and what's on the books, police and the judiciary have a record of showing leniency toward members of the security forces or members of affluent families.
The daughter of a former military officer walked away with two years of probation for crashing her car, while driving unlicensed at 17, into a public van in 2010. The van plunged from an elevated roadway and nine people died inside. When she failed to perform court-ordered community service for two years, there were no repercussions and she was given another chance to do so.
Last March, Jenphop, the son of a luxury auto company owner was allowed to forego sobriety testing after he slammed his BMW into the back of another vehicle, killing two graduate students inside. Jenphop was only charged and prosecuted after anger stormed across social media.
The longtime girlfriend of one of the two students killed by Jenphop said she's concerned the criminal case might go silent as that of the Red Bull heir.
"If you ask me frankly whether I am worried, I admit that I am," Kamonrat Wongkiatkachorn wrote in reply to questions. "But I still believe in the justice process. Those who commit crimes, who are obviously wrong, deserve to be punished by the law, no matter what."
Jenphop's slow-moving trial is set to resume in late April.
Related stories:
Red Bull Heir Fails to Appear, Again. Given Another Chance, Again.