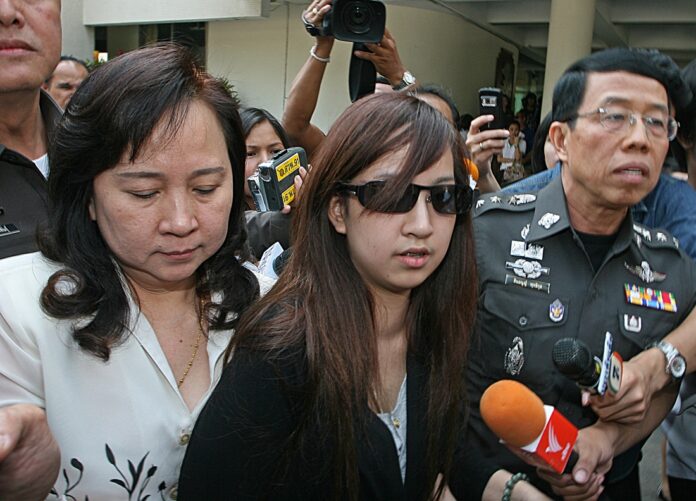 BANGKOK — The woman from a wealthy family who previously failed to do a community service as a punishment for killing 9 people in a 2010 car crash told the court Tuesday she has finally completed the term.
It took Orachorn "Praewa" Thephasadin Na Ayudhya, who was a minor and had no driving license at the time of the accident, four years to complete the 138-hour community service because she had earlier "misunderstood" the conditions of the court's order. She was given a second chance by the court in June.
She Avoided Jail Time For Causing 9 Deaths, Now 'Praewa' Has 9 Weeks to Complete Community Service
Today she reported to the court that she has been redoing the service since June 27, having worked at Sai Noi Hospital in Nonthaburi province six hours per day under close watch of probation officers.
Apart from the community service, Orachorn, who hails from a moneyed family, was also given a four-year suspended jail sentence and banned from driving until she's 25.
But she never reported in to probation officers since the verdict was handed down in 2012, and the authorities only found out in Feb. that she failed to comply with the regulation set by the court. According to officials, Orachorn only completed 90 hours of community service at Phramongkutklao Hospital, which is not listed by the Department of Probation.
Orachorn later told the court in June she misunderstood the term and was ordered by the court to complete her service properly.
A separate verdict handed down by the civil court in November also instructed her to pay 30 million baht in compensation to families of the victims that she killed in 2010.
The deceased were passengers of a public minivan that Orachorn slammed into with her car at high speed on a Bangkok tollway. She was 17 at the time, below the legal age for driving.
The case drew widespread attention and is often cited as evidence of how the well-connected and the wealthy appear seem to be immune to punishment under the laws.
Related stories:
Supreme Court Rejects Appeal from Underage Motorist Who Killed 9