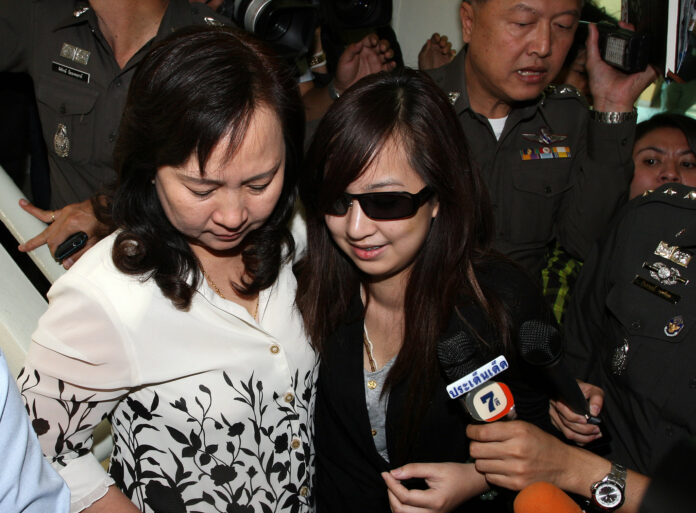 BANGKOK — A wealthy woman who received a judicial slap on the wrist for killing nine people as a teen driver told the court Tuesday she misunderstood the terms of her probation and asked for a do-over of her community service.
Orachorn "Praewa" Thephasadin Na Ayudhya, the unlicensed driver who at 17 sent nine people plunging to their deaths in a packed minivan, told the Central Juvenile and Family Court she is willing to redo her 138 hours of community service after she failed to follow instructions.
"She misunderstood the government regulation," said Department of Probation head Narat Sawettanan. "She thought she could do community service anywhere without coordinating with us."
Under the terms of her 2014 sentencing, Orachon was ordered to complete 138 hours of community service, reduced from 144 hours because she had donated blood. Now 23, she claimed to have already completed 90 hours at a hospital which is not a location approved by the Department of Probation.
Convicted of reckless driving, the Appeals Court sentenced Orachon to two years in prison – but suspended that sentence for four years, meaning she avoided any jail time.
The case drew widespread attention as another example of the wealthy and well-connected seeming to be above the law and immune from consequence.
Orachon was also ordered to provide services to victims of road accidents 48 hours each year for three years and was banned from driving until she turns 25.
According to Narat, Orachon has never reported in to probation officers since 2012. In February her attorney filed paperwork signed by Phramongkutklao Hospital certifying she had already served 90 hours there, prompting authorities to say she did not comply with regulations.
For her part, Orachan, who has never apologized for the accident which killed a number of students, filed a complaint that she felt threatened by probation officers. In her March complaint, she said that she performed her service at the hospital of her choosing because she felt worried about her safety.
The probation department chief said Tuesday there would be no renewed legal proceedings against Orachan as she agreed to now follow the rules.
Narat said Orachon will need to complete all 138 hours before reporting again to the court Aug. 23.
Related stories:
'Praewa' Ordered to Pay 30 Million Baht to Van Crash Victims
Supreme Court Rejects Appeal from Underage Motorist Who Killed 9
Deadly Car Crash Driver Escapes Jail Term
Red Bull Heir Fails to Appear, Again. Given Another Chance, Again
Out of Sight and Mind, Actress' Fatal Crash Case Ends Without Jail Time
Fresh Charge Against Jenphop as Model Student Victims Laid to Rest