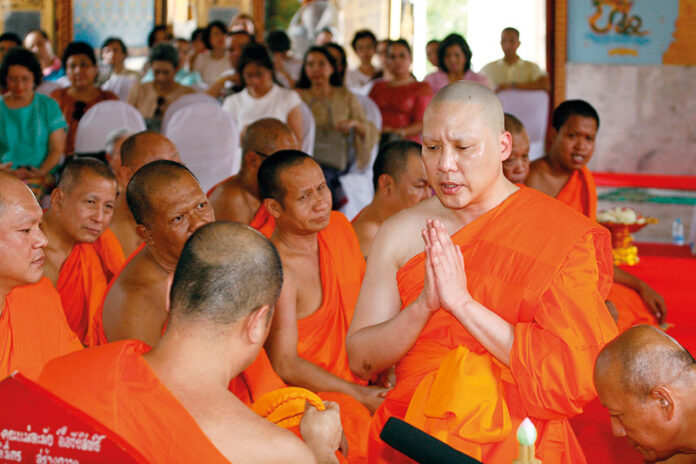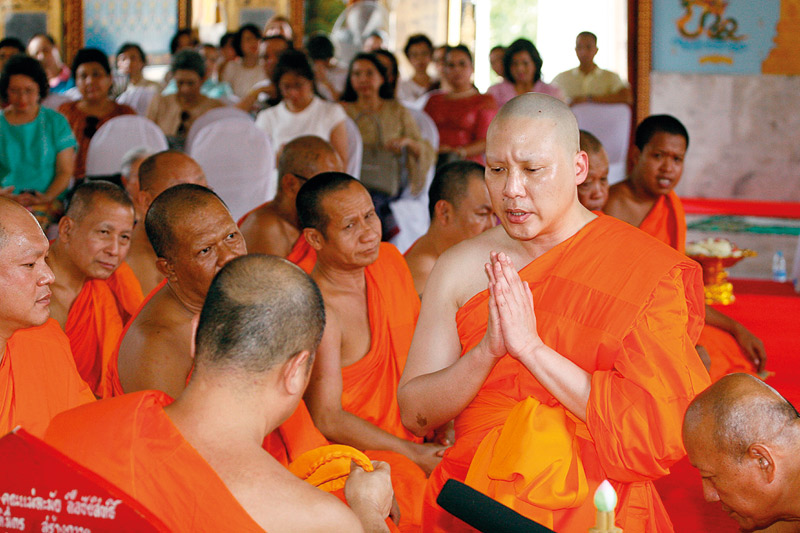 AYUTTHAYA — A businessman charged with killing two graduate students with his Mercedes-Benz in March could not make his first court appearance Monday due to a mental breakdown, his lawyer told the court.
Because of his mental condition, Jenphop Viraporn's lawyer also asked the court to indefinitely postpone the trial on the grounds he is unfit to stand trial, a move slammed by the family of one of his victims as a cheap trick to delay justice.
Victims' Families Refuse Cash, Demand Full Prosecution of Jenphop
The millionaire defendant was scheduled to appear in an Ayutthaya provincial court Monday to enter his defense for the speed crash that killed Krissana Thaworn and Thantapat Horsaengchai on March 13 for which he stands accused of fatal reckless driving while intoxicated.
But he never showed up. Instead, his lawyer said Jenphop is suffering immense stress that led to a breakdown, and he's receiving treatment at a hospital, according to an attorney for the Thaworn family.
"So the court issued a summons for the doctors in charge of his treatment to give their testimony whether Mr. Jenphop is mentally incompetent to the point that he cannot fight his case" said the lawyer, who would only identify himself as Teeranit.
The doctors are due to report to the court three months from now on Nov. 14.
If Jenphop's lawyers successfully convince the court that their client is unfit for trial, the whole process would be suspended until he's fully recovered from his mental condition, said Teeranit, who pledged to contest that scenario.
"You have to understand that when he committed the crime, he was not mentally disabled," Teeranit said. "Under the principles of the law, in order to be declared unfit for trial, the defendant must be so mentally disabled that he cannot make his own defense. If he's still in a state that he can communicate, he can fight the case."
Nongkarat Rungsang, whose brother Krissana was driving the Ford which Jenphop rear-ended at a speed exceeding 200kph, said she was not surprised by today's turn of events.
"We already expected that the lawyer on that side will use this … this … well, to speak frankly, this trick to buy time," Nongkarat said. "He confessed in the civil case to recklessness, but he contested all other charges. So he has to use this method. In a civil case, he could use his money to compensate his victims, but the other charges are criminal counts that he cannot settle. It's not beyond what we expected."
Nevertheless, Nongkarat said, the news left her parents disappointed because they were looking for a swift conclusion to the case, saying Jenphop had personally admitted fault and apologized to them in a meeting last month.
"We feel that if he admitted his wrongdoing then, he should accept his punishment now. I want to tell him, man up," Nongkarat said. "It's so clear he's guilty. The day when he met my parents to discuss a settlement, he was still conscious, and he could still talk. But now that he's entered the legal process, why is he using this way to fight?"
For the crash that killed Krissana, 32; and Thantapat, 34; Jenphop is charged with refusing a sobriety test, which under the law automatically leads to another offense, driving under the influence of drugs or alcohol. He also faces charges of fatal reckless driving, driving over the speed limit and resisting law enforcement officers.
The suspect confessed to only one charge of fatal reckless driving and contested all others.
Nongkarat said her family has asked the court to appoint an impartial doctor to assess whether Jenphop was indeed suffering any mental disorder. If the doctor appointed by the court finds so, she would accept the ruling, but otherwise she will continue pushing for a trial.
"If the doctor accepts [Jenphop is mentally ill], then we accept. But this is not clear at all, so we won't let this matter slide," Nongkarat said.
Related stories:
Cops Reprimanded for Bungling Fatal Benz Crash Case
Top Cop Apologizes for Delay in Jenphop Case
Jenphop Plowed Through Toll Booth Before Deadly Crash (Video)