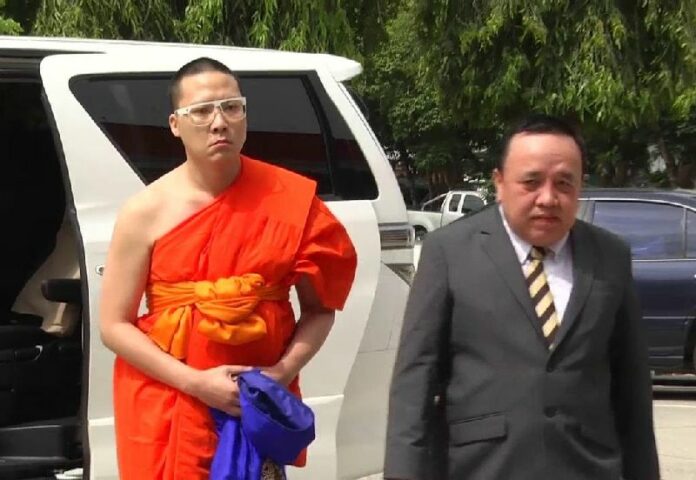 AYUTTHAYA — Cloaked in a monk's robe, Jenphop Viraporn stepped into a court for the first time today to plead not guilty to most of the charges relating to the two graduate students he killed in a high-speed crash 11 weeks ago.
For the fiery March 13 crash, 37-year-old Jenphop confessed to a lesser charge of fatal reckless driving rather than vehicular manslaughter while under the influence.
---
Jenphop Indicted for Fatal Benz Crash
---
"Other than that, he denies all charges," prosecutor Krisada Rojanasuwan said by telephone. The seven other charges against him include refusing to take a sobriety test, which under the law automatically led to another offense, driving under the influence of drugs or alcohol.
Both crimes of fatal reckless driving and doing so under the influence are punishable by up to 10 years in jail. A conviction on the latter would mean Jenphop, who sells luxury cars for a living, would be stripped of his driver's license.
The trial will start in July or August, depending on the court's schedule, Krisada said.
Jenphop, a luxury car company owner and son of a wealthy family, crashed his Mercedes-Benz into the back of a Ford at 250 kilometers per hour, killing its occupants, Krissana Thaworn and Thantapat Horsaengchai.
He did not answer reporters' questions as he entered and left the court. He was last wheeled into court on March 18 when he was granted bail.
Since the accident, Jenphop has largely kept himself out of the public eye, but in early May he was ordained as a monk at a high-profile ceremony in Bangkok. His family announced that the ordination was meant to make merit for the two victims of the crash.
Although Jenphop's family initially said he would only stay in the monkhood for two weeks, his uncle, Charoen Yodkaewlah, told reporters today that he decided to continue his religious retreat for an unspecified amount of time.
Krisada, the public prosecutor, said Jenphop's status as a Buddhist holy man would not affect the trial.
"As long as there's still no verdict, he will be treated as innocent," Krisada said. "He can come to testify to the court as a monk. No problem."
Related stories:
Cops Reprimanded for Bungling Fatal Benz Crash Case
Businessman Charged for Fatal Collision Amid Mounting Criticism
Officers In Charge of Ayutthaya Deadly Collision Removed
Jenphop Plowed Through Toll Booth Before Deadly Crash (Video)
Fresh Charge Against Jenphop as Model Student Victims Laid to Rest
Teeranai Charuvastra can be reached at [email protected] and @Teeranai_C.