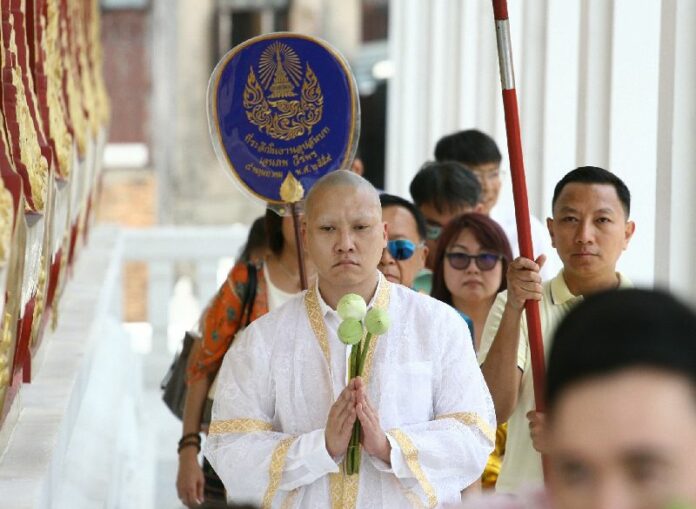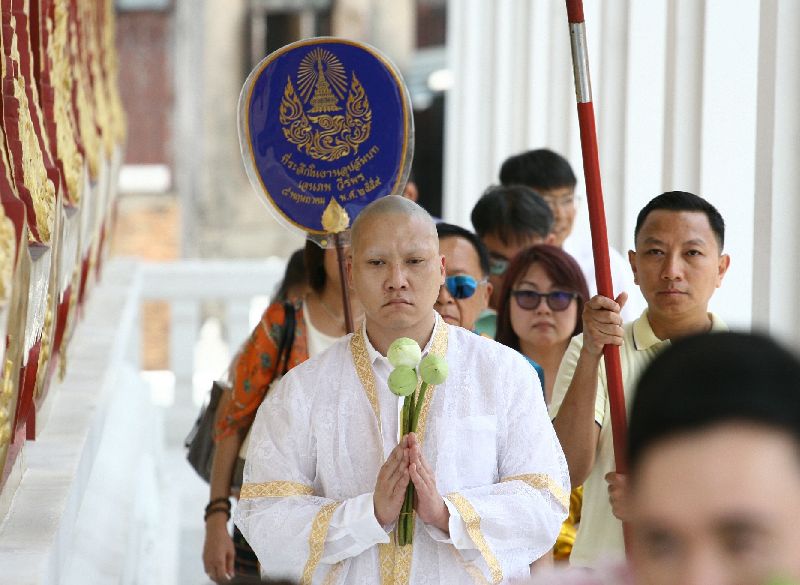 AYUTTHAYA — Two police officers were given warnings – one written and the other verbal – for their failure to conduct a sobriety test on a millionaire who killed two people with his Mercedes-Benz in March.
The Ayutthaya provincial police commander characterized that decision a "minor" mistake, because investigators' case against Jenphop Viraporn, 37, was largely unaffected, and the suspect is now charged with driving under the influence, in addition to fatal reckless driving offenses.
---
Fatal Benz Crash Case Reaches Prosecutor's Office
---
"There was a minor error in our investigation," said Maj. Gen. Sutthi Puangpikul Monday, a day after Jenphop, who's free on bail, was ordained as a monk in a bid to "redeem his sin" for killing Krissana Thaworn and Thantapat Horsaengchai in the fiery March 13 car crash.
Meanwhile one of the victim's loved ones has rejected the version of events laid out in Jenphop's campaign to rehabilitate his image.
The two officers placed under investigation were Lt. Col. Somsak Polpankwang of the Phra-Inracha Police Station, the officer who visited Jenphop at hospital after the crash and failed to get a blood test from the suspect, and station chief Col. Pongpat Suksawasdi.
Pongpat in particular drew widespread ire on social media for defending Somsak's decision not to insist on the blood test during a live interview with Nation TV. Pongpat said Jenphop had the right to refuse a sobriety test, contrary to what the law says.
For their mistakes, Somsak was given a written warning, while Pongpat was verbally reprimanded, Sutthi said. Both officers are back on duty.
Sutthi added that the errors did not damage the police case against Jenphop, as he was later charged with driving under the influence, as according to the traffic law motorists who refuse sobriety tests are automatically guilty of DUI.
In the days after the crash, police were criticized online as speculation grew they were shielding Jenphop, a luxury car company owner and scion of a wealthy family, from the full force of the law.
Suspect Ordained for 2 Weeks
Jenphop is currently free bail, having posted a bond of 200,000 baht to the Ayutthaya court in March.
He disappeared from the public eye and then resurfaced Sunday, when he became a monk in a high-profile ceremony attended by reporters at Wat Soontorn Thamtan in Bangkok. Jenphop is to remain in the monkhood for 15 days.
Jenphop Viraporn at his monk ordination ceremony on Sunday at Wat Soontorn Thamtan.
Jenphop did not talk to reporters, but his uncle, Charoen Yodkaewlah, told the press that his nephew ordained to seek redemption for his sins and make merit on behalf of the two victims, Krissakorn and Thantapat.
Charoen said the families' victims were invited to the ceremony, but they declined because they are still struggling to cope with their grief.
But Krissakorn's girlfriend Kamonrat Wongkiatkachorn disputed Charoen's story in a public Facebook post.
"Wait, who told us?" Kamonrat wrote. "We only knew from the police."
She rejected the notion that donning saffron robes would qualify as atonement.
"No matter how many hundreds of times you become ordained, the karma that you committed against the departed and their relatives who are still living will always stick with you, because karma never forgives anyone. Remember that!"
Sutthi, the Ayutthaya police commander, said Jenphop's ordination would not affect the investigation, as police can bring him to court whenever the prosecutor finally indicts him.
Related stories:
Businessman Charged for Fatal Collision Amid Mounting Criticism
Officers In Charge of Ayutthaya Deadly Collision Removed
Jenphop Plowed Through Toll Booth Before Deadly Crash (Video)
Fresh Charge Against Jenphop as Model Student Victims Laid to Rest