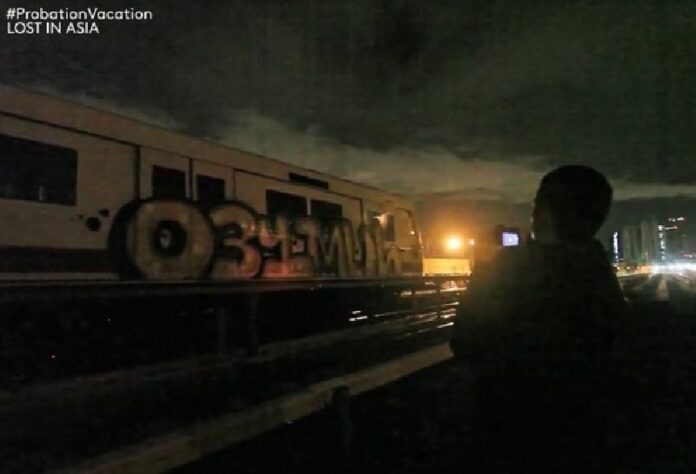 BANGKOK — A viral video of foreign graffiti artists breaking into Bangkok's metro depot and spray painting a train carriage, which set off waves of indignation Saturday, was actually from three years ago.
Two days after the viral video prompted police to vow to hunt down the perpetrators, the Mass Rapid Transit Authority of Thailand, itself strongly criticized over the incident, spoke out Monday on the vandalism and security breach to point out it actually happened in 2013.
"BMCL already filed a complaint at Huai Khwang police station on that day," a transit authority representative wrote on its Facebook page. "Police have previously investigated the crime scene."
According to the transit authority, the incident took place at MRT Phra Ram 9.
The three-minute video, posted online two weeks ago, was part of a larger project by two graffiti artists from the United States who call themselves Utah & Ether. The duo claimed to be behind graffiti surreptitiously sprayed on subway cars in other Asian countries including India, Malaysia, the Philippines and Singapore.
"Infamous for the snake infested jungle surrounding it and the Royal Thai Police who diligently guard it, many writers have attempted to paint the RAMA IX Metro Depot, but very few have succeeded," they wrote. "While most tourists visit Bangkok to spend their time with working girls and lady boys, UTAH & ETHER focused their energy and attention on painting."
"Violate the law!!! I'm so disgusted with you. Fuck you!!!" read one representative reply to their video posted to Vimeo by user Sarawut Woraditsamarom.
A number of media outlets published reports of the video and the outpouring of anger it inspired, apparently unaware of the date of the incident.
Responding to the brouhaha, interim Bangkok police chief Sanit Mahathaworn said on Sunday that he had ordered police to urgently track down the foreigners in the video so they could be prosecuted.
The transit authority said Monday it had strengthened its security system in response to the incident.