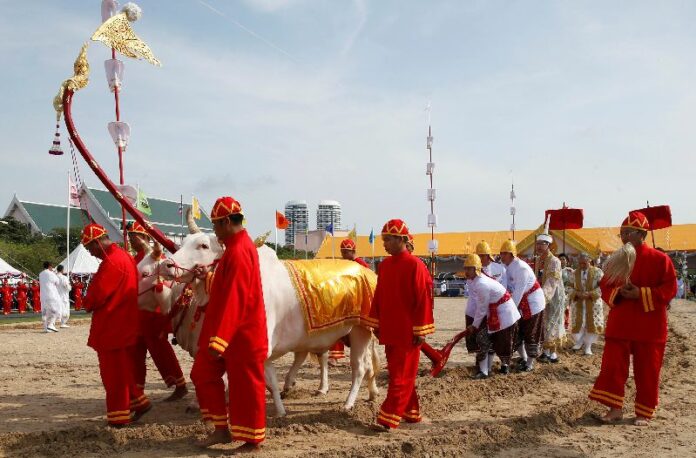 By Amy Sawitta Lefevre
Reuters
BANGKOK — Thailand's annual plowing ceremony on Monday forecast average rainfall, growth in foreign trade and abundant rice as the country struggles with drought and a shaky economy.
Farmers in the largely agrarian economy are likely to welcome the news. Thailand is suffering from its worst drought in two decades with 30 out of 76 provinces affected, according to the Interior Ministry.
Southeast Asia's second-largest economy remains on shaky ground two years after the military took power in a bloodless May 2014 coup, with weak exports and consumption hurting growth.
Amid pomp and ceremony two white bulls hitched to a wooden plow furrowed earth at Sanam Luang, an open area in the Thai capital, as Hindu priests sowed rice seeds.
At the ceremony, an ancient rite which dates back hundreds of years and nowadays mixes Hindu and Buddhist religious practices, the bulls were offered seven types of food and drink, including hay, water and rice liquor.
Depending on what the animals eat and drink, a prediction is made by the priests and astrologers for the upcoming harvest.
The amount of rain for the year is also predicted by selecting one of three pieces of cloth of varying lengths.
Sakchai Sriboonsue, deputy permanent secretary of the Ministry of Agriculture, read the prediction after the ceremony, which marks the start of the new rice-planting season.
"This year there will be enough water, rice will be abundant and cereals and fruit bountiful," Sakchai said. "Foreign trade will grow and the economy will prosper."
Crown Prince Vajiralongkorn presided over Monday's ceremony accompanied by his eldest daughter and son who watched as the ritual was conducted by the Brahmin priests dressed in white.
Persistent drought, which has also affected rice planting, is part of the reason for subdued consumer spending in Thailand.
The arrival of La Nina, the cold phase of tropical Pacific Ocean surface temperatures, by mid-year could bring more rainfall to regions such as Southeast Asia.
Water levels in the country's main dams are low and the government has urged farmers to produce alternatives to the crop. Thailand is the world's second-biggest rice exporter after India.
The central bank cut its 2016 growth projection to 3.1 percent in March from 3.5 percent, and said the economy was losing steam as the impact of government stimulus measures fade.
Growth last year was 2.8 percent, up from 0.8 percent in 2014.
The military government is trying to reduce some 11 million tons of its rice stockpile accumulated under a previous subsidy scheme that bought rice from farmers at above-market prices.
Additional reporting Aukkarapon Niyomyat and Patpicha Tanakasempipat