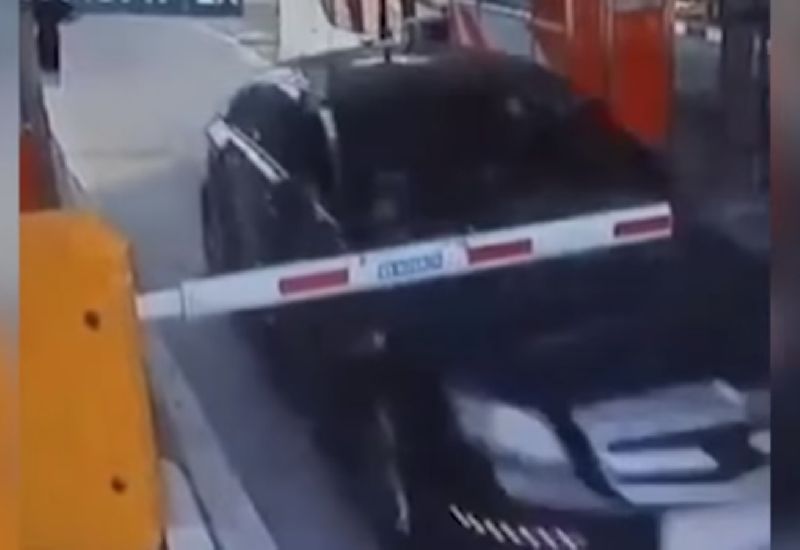 BANGKOK — Not long before speeding on to cause two highway deaths, vehicular manslaughter suspect Jenphop Viraporn smashed through a Bangkok toll booth barrier in an incident also captured on video.
About an hour before the 37-year-old luxury car dealer slammed into a vehicle on a highway in Ayutthaya which then burst into flames, killing two students inside, Jenphop was filmed in the same Mercedes-Benz in a video uploaded to social media Friday.
Damkoeng Pankam, deputy director of the national expressway, Friday confirmed it was Jenphop's car seen in the video. According to Damkoeng, Jenphop drove through the booth from Rama IV Road in Bangkok at 10:58am on Sunday.
In the footage, the Mercedes makes no visible attempt to slow down as it drives through the lowered toll arm.
Damkoeng played down the incident, saying there have been previous cases of drivers not stopping at toll booths or even smashing through them due to sensory malfunctions. However, Damkoeng said Jenphop did not bother to stop to inspect the damage, unlike other drivers.
"In this case, the driver did not park his car to look at what he had done. He simply drove away," Damkoeng said.
About an hour later, Jenphop slammed into the back of the Ford Fiesta at high speed. The victims – Krissana Thaworn, 32, and Thanthapat Horsaengchai, 34 – were killed after flames engulfed their car. They were both graduate students at a university in Bangkok.
Jenphop is now facing charge for fatal reckless driving. The charge was only filed against him on Thursday, four days after the deadly collision. Police never tested whether Jenphop was driving under influence at the time of the accident.
Damkoeng said expressway authorities will not press charges against Jenphop because there was no damage to the barrier, which is designed to survive impact. They will however seek the unpaid toll.
Related Stories:
Businessman Charged for Fatal Collision Amid Mounting Criticism
Officers In Charge of Ayutthaya Deadly Collision Removed
Teeranai Charuvastra can be reached at [email protected] and @Teeranai_C.